28 September 2023
Student mental health problems have almost tripled, study finds
Around one in six undergraduates now report experiencing mental health challenges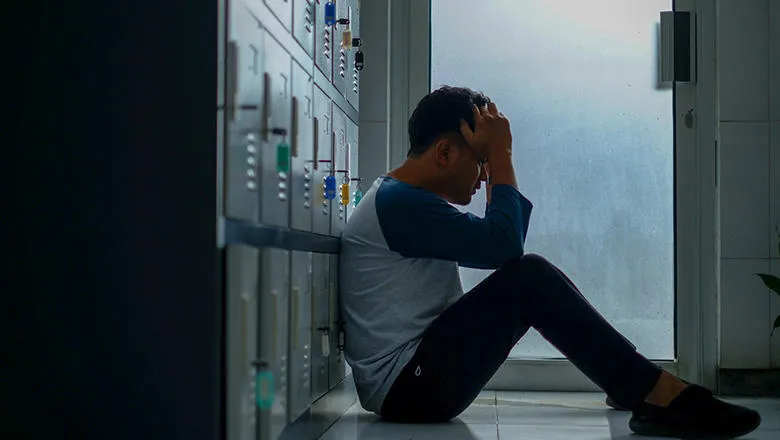 Reported mental health problems among university students have almost tripled in recent years, new analysis suggests.
Between the 2016/17 and 2022/23 academic years, the share of undergraduate students at universities across the UK who said they had experienced mental health difficulties rose from 6% to 16%, meaning around one in six now report such challenges.
The analysis, by the Policy Institute at King's College London and the Centre for Transforming Access and Student Outcomes in Higher Education (TASO), found a significant part of this increase occurred in the last 12 months, a period during which the cost of living crisis intensified.
Indeed, among students considering dropping out of university, the proportion citing financial distress as the main reason has risen from 3.5% to 8% between 2022 and 2023.
However, the general upwards trend in mental health problems predates both the rise in inflation and the Covid-19 pandemic, the researchers say, indicating other factors are likely also at play.
Students are still around 25 percentage points more likely to select mental health as the primary motivation for wanting to drop out compared with any other explanation, making it by far the most common reason given.
The analysis – which draws on a dataset of 82,682 respondents over seven years – shows experiences of mental health among undergraduates are deeply unequal, with some groups much more affected than others.
Gender and sexual orientation
Looking at averages across the period covered by the data, female students (12%) are more than twice as likely as male students (5%) to say they have been affected by poor mental health, but non-binary students (42%) are more likely still.
And experiences differ considerably by students' sexual orientation: bisexual people (28%) have the highest average levels of mental health difficulties among LGBTQ groups across the data, while gay men (14%) have the lowest – although this is still greater than the level seen among straight people (7%).
However, looking over time, gay men and lesbians are experiencing a rise in mental health difficulties at three times the rate of straight people, and bisexual and asexual people at around double the rate.
When it comes to gender identity, trans people (30%) are more than twice as likely to experience mental health difficulties during their studies than those who identify with the gender they were assigned at birth (12%), a difference which is statistically significant.
Yet the researchers say there is potentially reason for cautious optimism, as between 2021 sand 2023 reported mental health difficulties among trans people fell from 40% to 25% in 2023 – although more data is needed to confirm this trend.
Ethnicity
Across the dataset, white students (12%) have on average worse mental health than their peers from other ethnicities, and these differences are significantly greater than all other ethnicities except for Black Caribbean (10%) and Black Other students (10%), who report mental ill-health at comparable levels. However, those with a "mixed" ethnicity (12%) are nearly exactly as likely to have mental health difficulties as white students.
Education and family background
Undergraduates who attended state schools (15%) have on average worse mental health than their peers who attended private school (11%) – a difference that is statistically significant.
Meanwhile, students from areas where more people attend university have on average fewer mental health challenges than those from areas where fewer or few students go on to university.
Yet the picture is more mixed when it comes to parental education. Students whose parents did not attend university have better mental health outcomes than students whose mother was the only parent to attend, but worse outcomes than those with either a father or both parents who attended university.
Paid work and source of income
The research finds a gradual increase in the rate at which students experience mental health difficulties as they engage in more paid work during term time.
But while this difference is statistically significant, the analysis shows this relationship is smaller than many of the others reported, and is not meaningful in practical terms.
However, there is a more meaningful difference by source of income, with students who get most of their money through either a maintenance loan or grant, or paid work, more likely to have mental health difficulties than those on scholarships or with family support.
Given students receiving scholarships are often those from the lowest-income backgrounds, and those whose families provide most of their income tend to be the most affluent, the researchers say this suggests scholarships may have a positive effect on students' mental health.
The analysis makes use of data for seven years, 2016/17 to 2022/23, taken from the Student Academic Experience Survey, developed by Advance HE and the Higher Education Policy Institute. The sample for this period consists of 82,682 full-time undergraduates studying in the UK and has been weighted to maximise representation of the undergraduate student population.
Michael Sanders, professor of public policy at the Policy Institute, King's College London, and author of the study, said:
"Using a large dataset, collected over a long period, we are able to shine a light on a troubling trend of undergraduate mental health challenges almost tripling in the last seven years, and on patterns across student demographics. It's clear the experiences of mental ill-health among students are deeply unequal, and exist along much the same lines as in society at large, with those from the most disadvantaged backgrounds or who often face discrimination being most likely in general to report struggles with their mental health. The findings suggest further action should be taken to prevent mental health difficulties arising wherever possible, and that services are adequately resourced to support students quickly when they need help."
Dr Omar Khan, chief executive officer of the Centre for Transforming Access and Student Outcomes in Higher Education (TASO), said:
"This report highlights the persistent and widespread mental health challenges faced by students. While Covid and the cost of living crisis have clearly exacerbated such challenges, the upward trend is not new. We're working with the higher education sector to better understand what works to improve mental health outcomes for all students."
Read the full report, Student mental health in 2023: who is struggling and how the situation is changing.
About the SAES dataset
The Student Academic Experiences Survey (SAES) was designed and developed in partnership between Advance HE and the Higher Education Policy Institute (HEPI), with online panel interviews independently conducted by Savanta and Torfac. Student mental health data exists for seven waves of the SAES, starting from 2016/17 and continuing to the most recent academic year. In that time, 82,682 respondents can be found in the data, of which 8,625 are identified as having a mental health difficulty. The sample is not necessarily representative of the student population, as some groups are more likely to respond than others. The data is weighted based on gender, ethnicity, domicile and year of study of students in the university population, but it is not possible to weight based on characteristics that are not routinely collected by the Higher Education Statistics Agency.