28 February 2022
Student's essay commended and chosen for award
Madeleine Bishop's in-depth assessment on the end of the post-war consensus was commended and chosen as the Permanent Secretary to the Treasury's favourite from among the MA students and Treasury officials who took the Strand Group's module: The Treasury and an Introduction to Economic History – in Partnership with HM Treasury.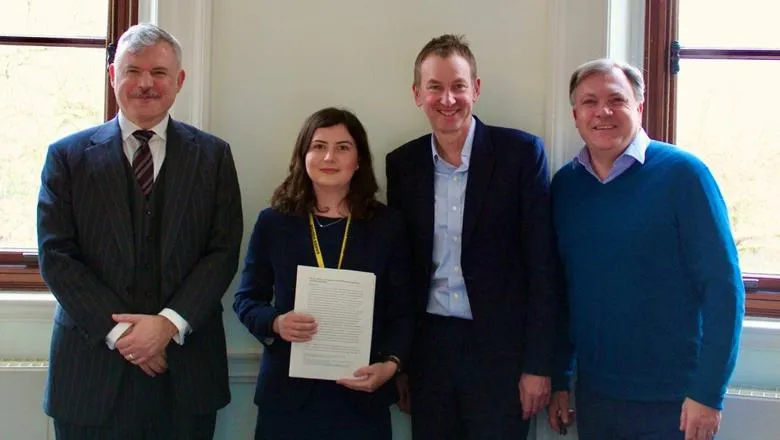 L-R: Professor Jon Davis, Madeleine Bishop, Tom Scholar, and Professor Ed Balls. Picture: STRAND GROUP
To celebrate her achievement, Madeleine was invited to the Treasury to meet the Permanent Secretary, Tom Scholar, to discuss the essay.
Tom said: "I enjoyed the opportunity to read a selection of the highest scoring essays from the Treasury module at King's College London. Congratulations to Madeleine for producing an excellent essay that was both high rated academically and superbly written – I really enjoyed talking it through with her."
The MA module on HM Treasury is run by Professor Jon Davis alongside Professor Ed Balls and former HM Treasury Permanent Secretary Lord Macpherson.
Prof Davis said: "This was a superb essay. Madeleine examined both the concept of the post-war consensus and the changing economic circumstances of the late 1970s with confidence and élan."
Prof Ed Balls added: "This is a truly unique module. The partnership with HM Treasury means that government officials take this class alongside students at King's College London. Students not only gain an appreciation of the economic history of the UK but also an understanding of how history can shape policy in the future. Madeleine's essay, while historic, has some very resonant themes for today's politicians and officials."
Madeleine, who is now a researcher at the Institute for Government, said: "I'm honoured to have been awarded the Permanent Secretary to the Treasury's Essay Prize, and greatly enjoyed the opportunity to discuss my winning essay with Tom Scholar. I highly recommend the Strand Group module on HM Treasury to other students.
"It's a great crash course on economic history since the Second World War, featuring a fantastic teaching panel and interesting guest lecturers - many of which offer insight into recent economic events and decisions they themselves took part in."
In this story