16 February 2023
Students offered insights into careers in EU institutions
The ongoing efforts to improve visibility and career paths for women in top European institutions was in focus at an event hosted at King's College London.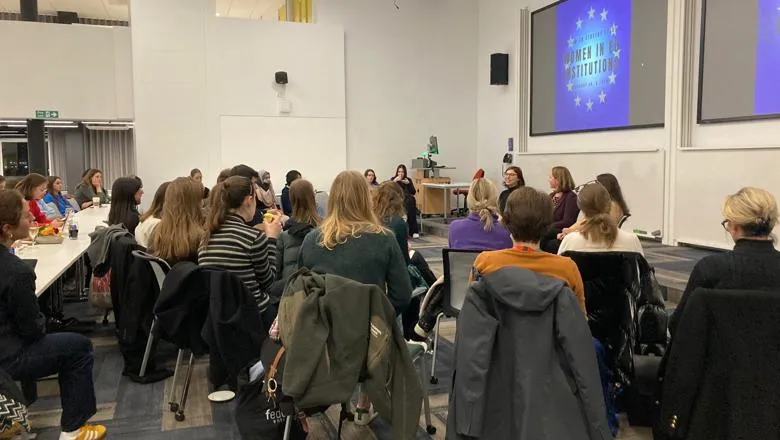 The session was attended by more than 40 students. Picture: SPE
Women in EU Institutions saw students given the opportunity to discuss and reflect on progress made – and the work still to be done – on reducing gender inequality in some of the leading institutions in the European Union and beyond.
A group of more than 40 students enjoyed talks led by alumnae Sophie Briquetti, a political officer with NATO, and Julia Mousseau, who worked as a trainee with the European Council's interinstitutional relations directorate. Charing the session was Dr Isabelle Hertner, senior lecturer at King's College London and a former lobbyist for a German welfare NGO.
The session, which took place on 14 February, was hosted by the Department of European and International Studies as part of its ongoing 30th anniversary celebrations.
Issues discussed by the panel included efforts to 'mainstream' gender, bringing women and girls to the negotiating table, improving visibility of women at typically male-dominated institutions like NATO, recognising changes that have been made, and measuring the impact of policies on women.
Student Catherine, who attended the event, said: "It was really inspiring to hear Sophie and Julia speak about their experiences as women in these organisations. Especially since they work within institutions that many of the female students in EIS might think about for employment.
"Although we cover some of this within our courses, the opportunity to dedicate time discussing the state of gender equality really fed my interests beyond what I learn in my studies. I think all of us left feeling motivated to see more progressive women taking the forefront in these organisations. I also feel more aware of some of the issues that are still to be faced."
The students were also offered the chance to put questions to the panellists.
In this story