26 February 2020
Students pitch ideas to transform society at Policy Idol 2020
In front of a panel of formidable judges, students shared their inspiring policy solutions at this year's final
Students at King's College London pitched innovative and inspiring solutions to some of society's most pressing challenges at the Policy Idol 2020 final last night.
From tackling period poverty and stopping loneliness in aging populations, to sports therapy for mental health patients, the students' ideas showed a desire to transform society with fresh thinking. Medical student Michelle Sebele and Law undergraduate Emily Yam pitched the winning policy of the night, picking up the £1000 cash prize with their idea to include looked-after children and care leavers in the Equality 2010 Act.
Hosted once again by BBC Home Editor Mark Easton, this year's final of the annual policy-pitching competition from the Policy Institute saw stiff competition and high pressure as finalists sought to convince a formidable judging panel. The judges included former Universities Minister Jo Johnson, former Victims' Commissioner and government homelessness tsar Louise Casey, Director of the Global Institute for Women's Leadership Professor Rosie Campbell, and Policy Institute Director Professor Bobby Duffy.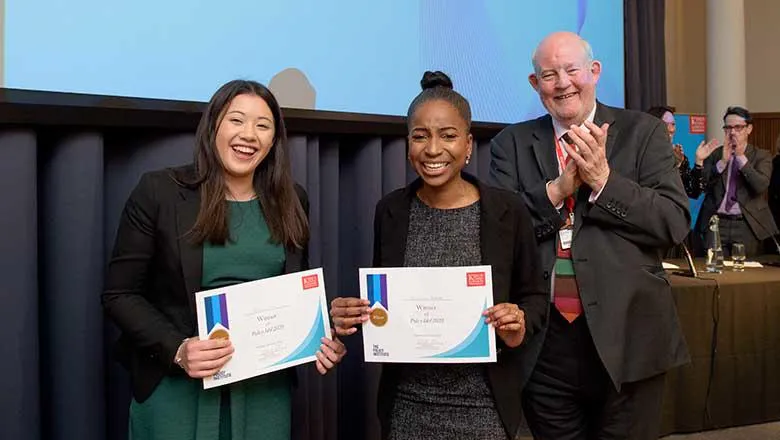 In the end, Michelle Sebelle and Emily Yam's simple but effective pitch to create a protected characteristic for children in care and care leavers stood out in the eyes of the judges. Their passionate and rigorously prepared presentation also won them the audience prize worth £250.
Other standout performances picked up runner-up prizes, including Ash Ryan, whose proposal to empower patients on mental health wards was awarded the £500 prize for substance. The award for pitch with the most style also worth £500 was given to Zewditu Gebreyohanes for her policy to give older people opportunities to volunteer in primary schools as a means to combat loneliness.
Former Home Secretary and Visiting Professor at the Policy Institute, Charles Clarke, presented the awards to the finalists. Clarke highlighted the importance of initiatives like Policy Idol in helping to embed key communication skills and emphasising the importance of evidence-based policymaking.  
Now in its sixth year, Policy Idol is an annual competition open to all current students at King's. Participants get the opportunity to develop world-changing policy ideas, and receive training and advice to help them perfect their pitch, which they then have three minutes to present to a panel of leading experts.
Former student finalists have gone on to forge careers in government, law and think tanks, or have been inspired to set up their own policy initiatives, often further developing their Policy Idol pitch to make it a reality.  
Mark Easton said:
"Tonight we've had policy ideas that are imaginative, practical and inspiring. It's really exciting that the students going forward tonight can lend their ideas and their enthusiasm to become part of public thinking and policymaking."
Bobby Duffy said:
"Throughout every stage of Policy Idol 2020, the quality of ideas and enthusiasm of the pitchers have been a delight to see. Students have combined fresh thinking with a drive and passion to take their idea further to tackle some of society's biggest challenges."