05 June 2023
Students present project findings to policy-makers and professionals
A student-led research project set up to help shape national policy on an emerging issue facing young people in the UK has made headlines and reached thousands of people across the country.
Monica Richards presents findings of the project. Picture: NATHAN FRANK
The Benzo Research Project was launched in 2021 by King's student Monica Richards and set out to understand and evaluate the experiences of young people who use benzodiazepines – a type of sedative medication increasingly used recreationally.
What started as an idea quickly blossomed and, some 18 months later, Monica and her team of almost 50 volunteers have published a far-reaching report, held a launch event for peers and professionals, reached thousands of people with informative content, and engaged with media, policymakers and officials.
Monica, a PPE student in the Department of Political Economy, said: "Over the last 18 months, a group of 50 young people of more than 30 nationalities have devoted more than 4,000 voluntary hours into the project. Without this team this project would never have become what it is today. It is a strong community which I cherish immensely.
"I have such deep love and appreciation for the network that we've built, the feedback received by benzo users that shaped our strategy, the partnerships formed with NGOs and charities, think tanks, and a documentary.
"King's gave us £1,000 towards the project, which we used to reach 60,000 young people across the UK with benzo and drug harm reduction content created weekly by our team. Our Freedom of Information team sent out hundreds of data requests to NHS Trusts and county councils.
"As such, people are now able to map out different forms of drug education across the UK. Young people deserve universal, updated, and helpful drug education, and that's, in part, what we're campaigning for."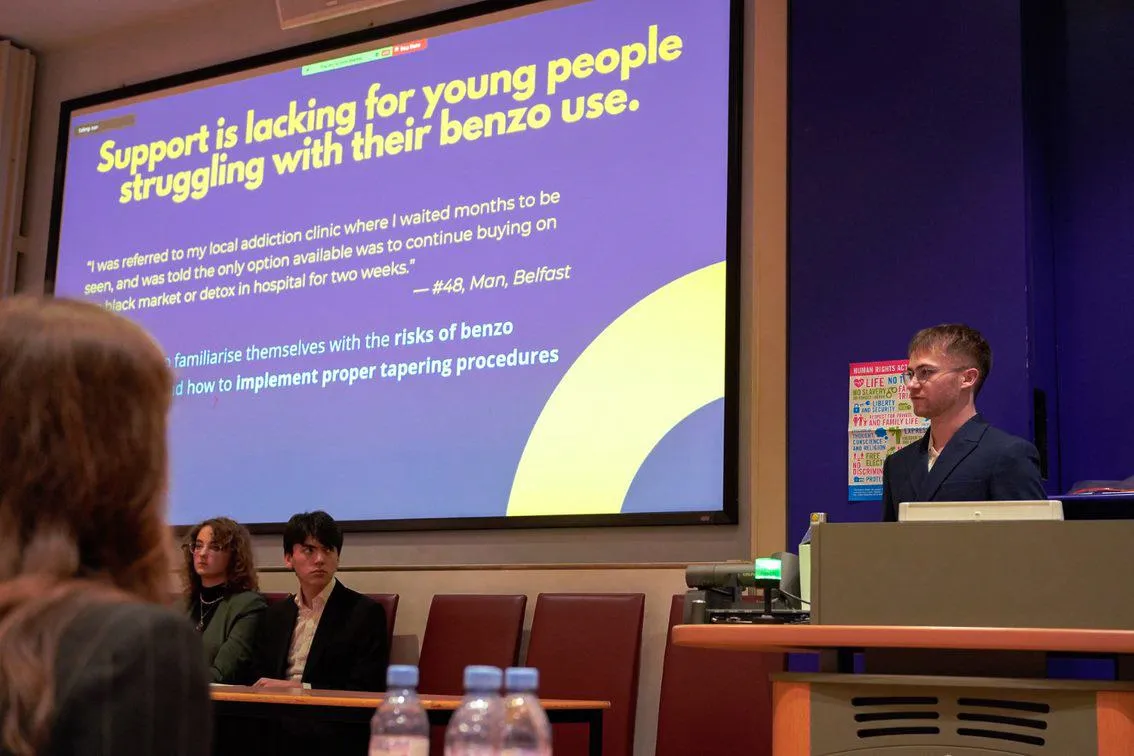 The project team has presented the project findings to peers, policy-makers and professionals. Picture: NATHAN FRANK
Benzodiazepines – or 'benzos' - are a class of depressant psychoactive drugs prescribed for use as anxiolytics, sleep aids and anticonvulsants. However, some 250,000 people are being prescribed the drug far beyond the recommended treatment period and an increasing number of drug-related deaths in the UK are being attributed to the misuse of benzos.
The project, which was aided with a £1,000 grant from King's College London, sought to engage with people aged 18-25 from across the UK and more than 70 detailed testimonies were gathered and analysed by the project team.
In September 2022, the team published a report, which has since been distributed to policy practitioners, NGOs, think tanks, police commissioners, NHS staff and others. The report findings are set to be integrated into an upcoming drug harm reduction app, policy reports, national and international medical and drug research databases.
Earlier this year, the team presented their findings to the Young Leaders in Drug Policy group and also spoke to members of the Drug Science network in a live webinar.
The research team has also engaged with media and seen their work featured by broadcasters ITV and Sky, as well as presenting their findings at academic and industry workshops. 
The project was advised by a group of academics and received funding from the King's College London's Student Opportunity Fund. Additional technical and advocacy support was provided by the organisations Volteface, Drugs and Me, Youth Rise, and Students for Sensible Drug Policy.