03 October 2019
Students shake it up for Welcome Week
Amidst the whirlwind of Welcome Week students were able to enjoy an array of creative activities facilitated and promoted by the Culture team.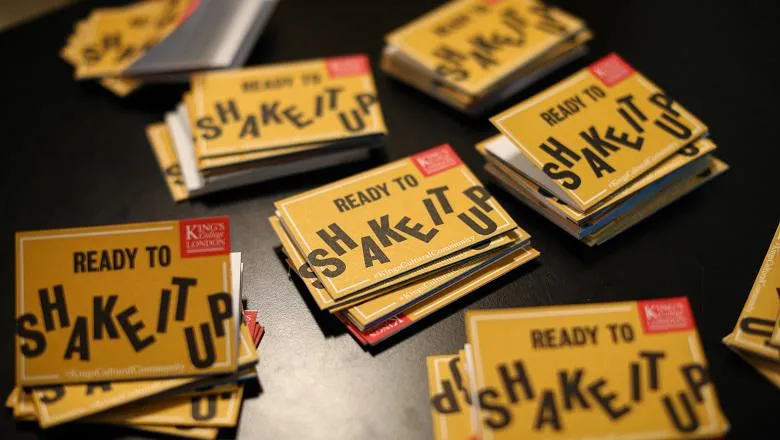 'Ready to shake it up' flyer provided to students
Activities included drawing workshops with London Fine Art Studios, and tips on how to creatively make the most of their daily commute with artist Tom Pope. The 'Zentangles' workshop with artist Jenny Leonard was a big hit, with students doodling across bags and paper to contribute to a collectively created 'Zentangle'.
One of the most popular activities that many new King's students enjoyed were tours to cultural venues, including a historical tour of Somerset House, a visit to National Theatre Archive, and graffiti street art tours in Shoreditch. These tours enabled students to find out more about their new cultural neighbourhood, and consider how arts and culture can have a positive impact on their health and wellbeing.  
A relaxed pre-party gig was a highlight of the week. The event was hosted by medical student Mandeep Singh, and featuring Roundhouse Resident Artists ELOI, Chisara Agor and Kit Finnie who is also King's Alumna, with music provided by the KCL DJ Society
The range of activities were a taster for what students can expect from their time at King's. Whether you're a new student or returning for another year, the best way to find out more about the cultural offering at King's and the wider cultural sector in London is to sign up to the student culture mailing list and follow @CulturalKings on Instagram.