20 February 2015
Study day for the music of Helmut Lachenmann
On Monday 16 February, King's College London hosted a study day for the music of German composer Helmut Lachenmann who turns 80 this year
Strand Chapel
On Monday 16 February, King's College London hosted a study day for the music of German composer Helmut Lachenmann who turns 80 this year. 
Organised by the School of Advanced Study, in the morning a packed audience heard fascinating papers on this extremely important figure of European modernism, together with the man himself in conversation with our Professor Emeritus John Deathridge and later with Professor Julian Anderson of the Guildhall School of Music and Drama.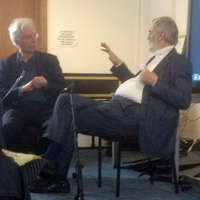 Two fascinating films by Barrie Gavin and Bettina Ehrhardt were shown in the afternoon, and best of all, attendees were treated to the world-renowned Arditti Quartet performing two uncompromising and enthralling String Quartets to a large and extremely distinguished audience, in the beautiful Chapel at the Strand Campus. 
Throughout, Lachenmann's own benevolent presence - approachable, avuncular, charismatic and with a distinct twinkle in his eye - made the day unforgettable.