23 November 2020
Study finds measures designed to counter violence may end up having opposite effect
Policies designed to deter violence across borders might actually end up having the opposite effect, a new study has found.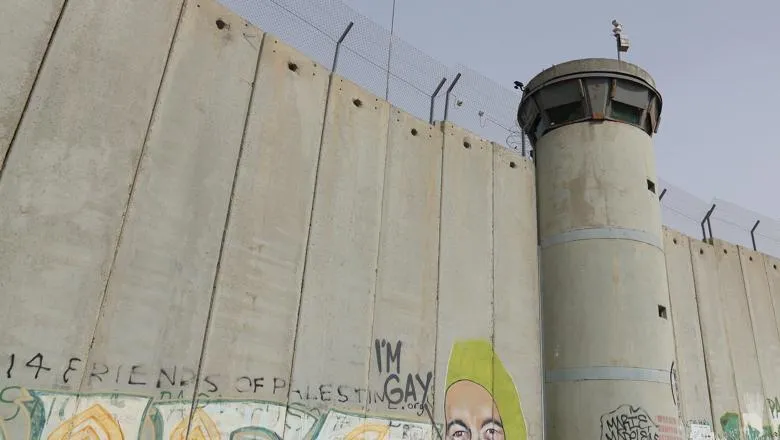 A stretch of border wall between Israel and the West Bank.
Counter-violence initiatives introduced in areas of conflict could change the way in which people make decisions which are risky or have consequences in the future. People directly affected by the deterrent can become more impatient and have a greater tolerance for risk, both permanent effects of anger at the initiative.
The findings are revealed in the paper, Does deterrence change preferences?, authored by Dr Elisa Cavatorta, senior lecturer in political economy at King's College London, and Professor Ben Groom, from the University of Exeter. The paper was published in the European Economic Review.
The researchers gathered data from people living in areas affected by the barrier wall built between Israel and the West Bank. The unusual passage of the wall has left some Palestinian populations cut off from the Israeli border by the wall, while others have been left living between the border and the wall, cut off from communities in the West Bank.
Data was also gathered from communities living near the border in the West Bank but, at the time the study was carried out, unseparated from the border by the barrier wall.
The researchers wanted to test the hypothesis that policies designed to prevent violence may actually worsen the situation by changing the way in which people behave, make decisions, and assess the risk of taking violent action.
Dr Cavatorta said: "Our results show that individuals close to the wall are more risk tolerant, ambiguity averse and impatient compared to the unexposed controls living in localities without the wall. The impact on preferences is larger for those in localities isolated by the wall, indicating an impact on preferences that increases with the intensity of the physical constraints the wall imposes.
"We demonstrated that these changes are associated with the emotional response to the policy in accordance with social psychology theories. That is to say, exposure to the wall invokes anger which leads to greater risk tolerance and impatience.
"Greater tolerance for risk and myopia are likely to increase the valuation of gains achieved by violent resistance. Indeed, observational data from survey polls tends to support this argument, since the same population in which we observe changes in preferences also show more support for armed action against Israel. These results suggest that the wall is an obstacle to peace."
In this story