17 August 2017
Sum of hard work at Maths School equals top grades
King's College London Mathematics School (KCLMS) continued to produce some of the country's future engineers, mathematicians, and physicists as students received their A Level results today with an incredible 92 per cent receiving an A* grade in Mathematics, and 99 per cent of all grades being A*-B grades.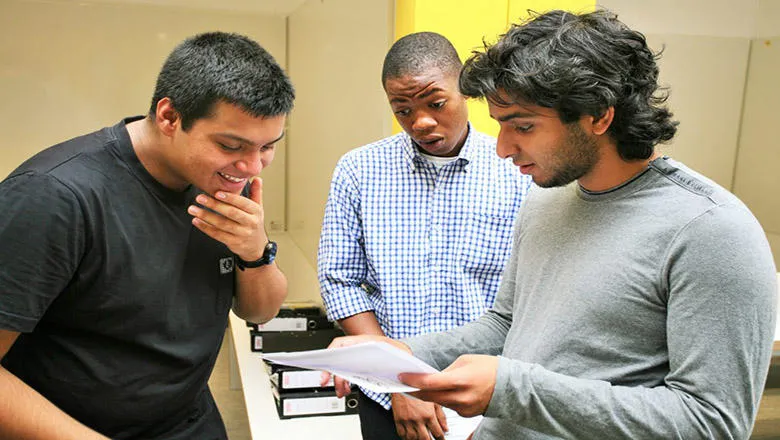 maths school
With 58 per cent of all entries at A*, it is likely that these results are some of the very best in the country.
The students have their results and university destinations confirmed today: 23 per cent have gained places at Oxford or Cambridge, and 100% of university applicants have now confirmed places at either Russell Group or Sutton Trust 30 universities.
Dan Abramson, Head Teacher at the School said: 'I'm so proud of our students. These young people are not just bright – they have secured immensely impressive achievements through their passion and dedication, as well as through the inspiring way they collaborate and support each other. They will go onto wonderful things, and I'm honoured to have been able to work with them these last two years.'  
All 61 students graduating from the specialist state-funded School for mathematicians aged 16-19 were selected for their particular enthusiasm and aptitude for Mathematics and received their results along with around 300,000 students across the country. Over one-half of this year's leavers are going on to study mathematics, and every single university applicant from the school will study one of mathematics, physics, engineering, computer science or economics.


One-third of the leavers are girls, including Michelle Lamptey who is chair of the student council and will be going on to study Mathematics with Philosophy at Warwick, having attained A*A*A in Maths, Further Maths and Physics. Michelle first heard about the School through a summer school run by King's College London, and thinks that the school's success is a mixture of the continuous challenge provided to students ('you always have to be on your toes!'), the focussed community and the huge array of opportunities on offer. 
A fellow student of Michelle is Charles Kanda, who also gained A*A*A and is going on to study Physics at Oxford. Like Michelle, it was the summer outreach programme at Year 11 which connected Charles to the school. The youngest of 5 boys, Charles is still in touch with his friends from his old school and regularly plays basketball in his spare time. On top of schoolwork, he has tutored younger pupils in mathematics and participated in the School's games club, perfecting his skill at Perudo, or 'Liars Dice', a favourite with many of the students. The geographical location of the school and diversity of the KCLMS student body has made his time much more positive.
Another student is Leonard Fadipe, who has lived in the UK for the past ten years with his mother, after moving to the UK from Nigeria where he lived with his grandmother. Based in South East London, Leonard heard about KCLMS through word of mouth on the popular messaging service WhatsApp. Leonard will now take up his place at LSE to study Politics, Philosophy and Economics (PPE), and intends to follow this with a career in politics or international relations, citing his experiences living in Nigeria as the reason behind his choice of civic career. Leonard feels more prepared for university than he expects he would have done had he gone to another school, where he would have studied maths, graphic design and business. Reminiscing on his time at KCLMS, Leonard smiled and admitted that one thing that he won't miss on leaving is the folders of schoolwork, 'they were just so heavy to carry on the commute'.
One particularly interesting outcome is for Greshan Nevins, who is going to study and work in engineering at the Dyson Institute, which will enable him to work as an engineer from day one whilst also working towards a degree awarded by the University of Warwick.
In addition to the leavers, 97 per cent of the School's 2016 student intake celebrated an A or B grade in their AS results, with 80 per cent of the year group achieving at least three A grades.
Mr Abramson is understandably proud of the school's achievements. 'We have the best science A Level results of any school in the country. On top of that, our students are achieving, on average, over a grade higher in each subject than those with similar GCSE results in other schools. I think that maths schools are something really special that could make a significant difference nationally, and hope to see more schools like ours opening over the next few years.'