17 January 2018
Survival Tips for PhD Students
ing's College London hosted a meeting of science education PhD and EdD researchers from across London to share experiences and tips for completing a doctorate.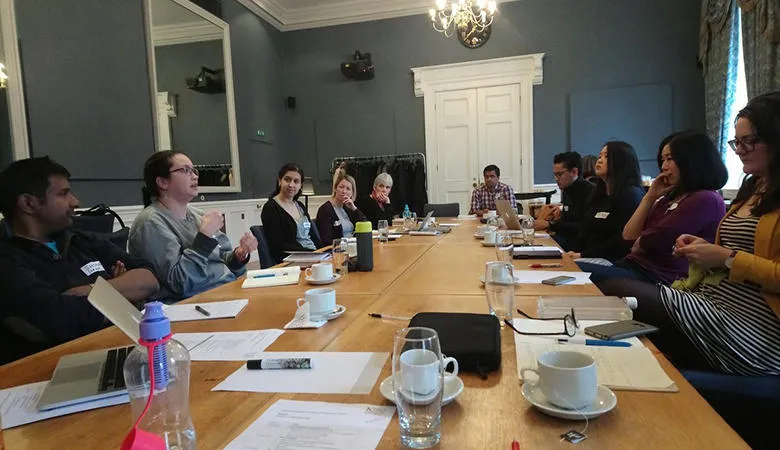 A meeting of PhD students at King's
Science education research has direct social benefit, improving our understanding of how to raise a scientifically literate population. Researchers tackling topics ranging from climate change education to designing science lessons for under-resourced schools came to King's College London on 12 January to share experiences of the PhD process.
"As a first year PhD student this was a valuable opportunity to hear about the challenges confronted at different stages of the PhD. I left with a strong sense that whatever challenge I face, it is likely that other students have been there too," said Kate Greer, who is researching climate change education at King's.
The event was convened by Lucy Yeomans, a PhD student at King's College London, to provide support for PhD and EdD students facing sometimes isolated experience of science education research. It was attended by fifteen students from London universities, with King's, a partner of the ESRC London Interdisciplinary Social Science (LISS) Doctoral Training Partnership leading the initiative.
Sue Sissling, of the University of Hertfordshire and UCL Institute of Education, is researching the situated, social and complex nature of teacher learning. She said: "Lively debate about practical aspects of doctoral research was both useful and interesting - and provided the basis for further collaboration and peer support."
"For me, it was very helpful to listen to the journey more experienced colleagues had made.  There was a very strong collaborative atmosphere, where the emphasis was on peer support and encouragement," added Marian Mulcahy, also of UCL IOE, whose project is designing science lessons in schools that are poorly resourced to try to decrease the educational gap between advantaged and disadvantaged children in some of the poorer parts of the world. 
Haira Gandolfi, also studying at UCL IOE, is looking at post-colonial and intercultural perspectives about the historical development of scientific knowledge and practices can be taken into account by science teachers in state secondary schools in London when planning their lessons.
 "It helped me a lot just to be able to ask questions to those closer to their Viva regarding how to structure their PhD thesis and how to narrow down the large amount of data that we all tend to collect throughout our research. I strongly recommend this type of event to all of us working towards our PhD, which can be a very technical and isolated experience."
The School of Education, Communication & Society, King's College London is a leading centre of science education research. Read more about our work.
King's College London is a partner institution of the London Interdisciplinary Social Science (LISS) Doctoral Training Partnership.