06 November 2023
Susha Rajadurai wins second place at CAD CAM Conference
Dr Susha Rajadurai presented at the 36th consecutive CAD/CAM Digital Dentistry Meeting.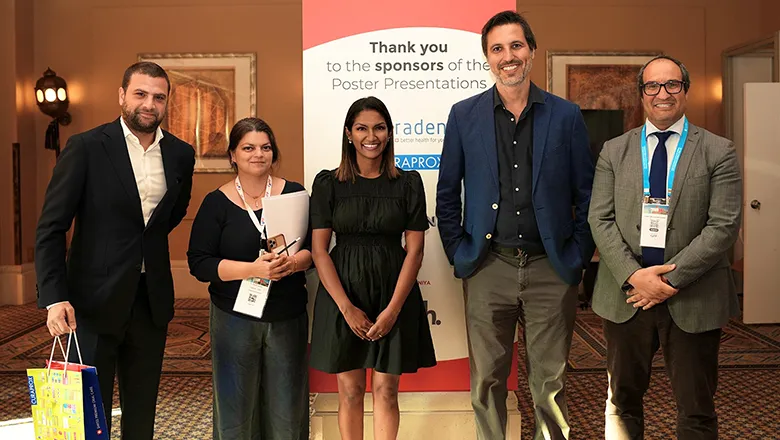 Dr Susha Rajadurai at the conference
Congratulations to Dr Susha Rajadurai, Lecturer in Clinical Education and Assessment Lead, who was awarded second place for her presentation at the CAD CAM conference in Dubai on technology enhanced education.
Representing the Faculty of Dentistry, Oral & Craniofacial Sciences, Dr Rajadurai presented on the lived experience and perceptions towards education techniques that combined conventional with novel digital resources and modelling techniques when teaching and learning tooth morphology online.
The 36th consecutive CAPP conference saw the 21st CAD/CAM & Digital Dentistry and 15th Oral Facial Aesthetic Conferences & Exhibitions at the Madinat Jumeirah Arena & Conference Centre, Dubai, UAE where dental professionals, the dental industry, dental experts, and top international speakers gathered at a scientific conference and exhibition.
Dr Rajadurai, a senior academic at the Faculty of Dentistry, Oral & Craniofacial Sciences at King's focused her presentation on the critical subject of online learning in dental education, specifically examining the nuanced experiences of students in learning Tooth Morphology through digital platforms. Dr Rajadurai emphasised the use of interactive virtual tools, tailored instruction, and collaborative techniques to aid and enrich the traditional dental education experience, stressing the importance of fostering a supportive online community, providing timely feedback, and continuous assessment for enhanced learning. Attendees gained valuable insights into online dental education and the role of student perspectives in effective pedagogy. This research advances the discourse in dental education, serving as a resource for educators seeking to optimise online learning.