12 June 2019
SUSTech and King's look to establish a joint medical school
Southern University of Science and Technology (SUSTech) and King's have this week signed an agreement to work towards establishing a joint medical school in Shenzhen, China.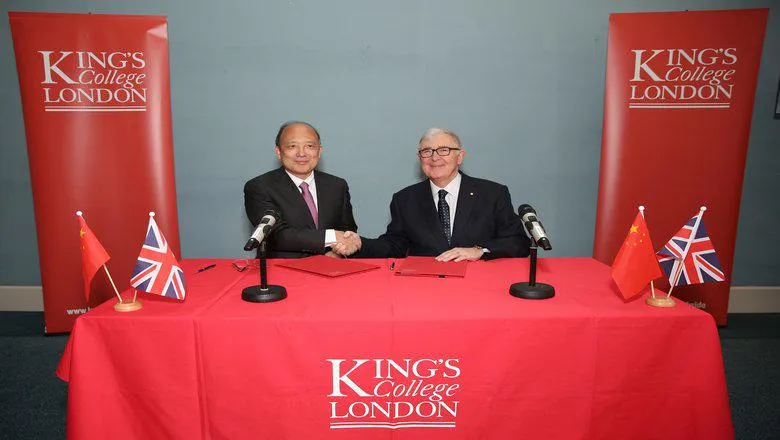 SUSTech President Chen Shiyi and King's President and Principal Professor Edward Byrne shake hands after signing the agreement
This agreement represents for the first time, an expression of interest in establishing a dual degree offering in medical education between the UK and China and would bring King's 800-year history and world-renowned reputation in training doctors and medical professionals to the dynamic Greater Bay Area in China.
The new School of Medicine would be part of the SUSTech campus in Shenzhen, China and would help establish the city as the place to go to for high-quality medical education, healthcare and cutting-edge research.
SUSTech President Chen Shiyi and King's President and Principal Professor Edward Byrne signed the agreement, which was witnessed by SUSTech's Vice President Lu Chun, Vice Provost (Global Strategies) Zheng Chunmiao, King's Senior Vice President/Provost (Health) Professor Sir Robert Lechler, Vice President (Finance) Stephen Large, Deputy Vice President (Global Business Development) Tayyeb Shah and Faculty Executive Dean, Professor Richard Trembath.
President and Principal of King's, Professor Edward Byrne said: "This agreement represents an exciting and unprecedented opportunity for both universities. Our academic depth combined with SUSTech's innovative approach could pave the way for an extraordinary offering for students."
SUSTech President Chen Shiyi added that the proposed joint medical school will be the first of its kind in China. He said: "Our goal of integrating science and engineering with medicine will see us producing top medical graduates for Shenzhen, China, the UK and the world.
"There is a long way to go and this agreement represents a good starting point. I hope this will also serve as a bridge between China and the UK to enable further collaboration and exchanges."