06 June 2016
Symposium on Computational Archive Science
Symposium on Computational Archival Science jointly organised by University of Maryland and King's College London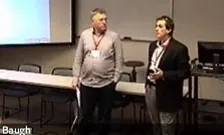 Finding New Knowledge Symposium
On April 26-28, the Department of Digital Humanities at King's College London and the Digital Curation Innovation Center (DCIC) at the University of Maryland's College of Information Studies (iSchool) convened a Symposium entitled Finding New Knowledge: Archival Records in the Age of Big Data. The event was co-organised by Richard Marciano and Michael Kurtz from DCIC and Mark Hedges from King's, and was held at DCIC's premises at the University of Maryland in College Park.
This invitation-only symposium featured 52 participants from the UK, Canada, South Africa and the USA, researchers, students, and representatives from funding bodies and other federal agencies, cultural institutions, and consortia. This group of experts was assembled to discuss and define computational archival science, an interdisciplinary field concerned with the application of computational methods and resources to large-scale records/archives processing, analysis, storage, preservation, and access, with the aim of improving efficiency, productivity and precision in support of appraisal, arrangement and description, preservation and access decisions, and of engaging and undertaking research with archival material.
The objectives of the Symposium were to explore this field in depth and to identify and evaluate current trends, determine possible research agendas, and establish a community of practice. For more information about the Symposium, see http://dcicblog.umd.edu/cas/symposium-program/.
To capitalise on the April Symposium, a follow-up workshop entitled Computational Archival Science: Digital Records in the Age of Big Data, will take place in Washington DC at the 2016 IEEE International Conference on Big Data. For information on the upcoming workshop, see http://dcicblog.umd.edu/cas/ieee_big_data_2016_cas-workshop/.
The Symposium was partly funded by a grant from the King's Worldwide Partnership Fund.
In this story