21 January 2020
Tackling period poverty in the UK
Bethany Elder and Sifan Zheng
BETHANY ELDER AND SIFAN ZHENG: How policymakers could improve access to sanitary products for the women who need them most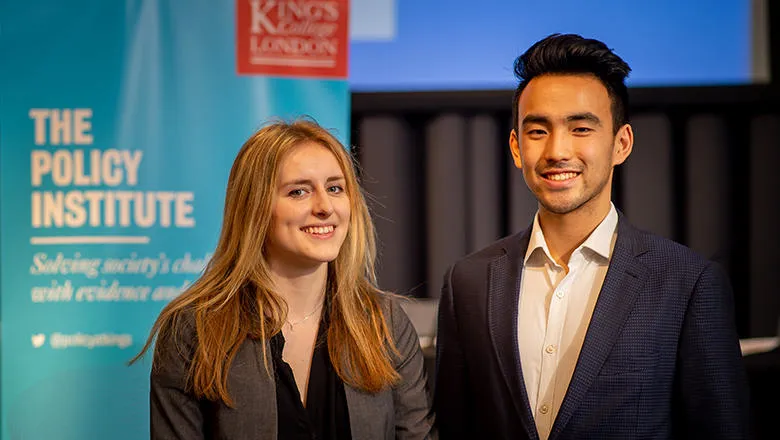 This piece is part of a blog series from the student finalists of Policy Idol 2019. Through the series, we're sharing students' policy ideas for changing the world, which they pitched at the competition earlier this year. 
Find out more about Policy Idol
Period poverty refers to a lack of access to menstrual products as a result of financial constraints. Commonly attributed to the developing world, it has only recently been recognised as a problem many women in the UK are struggling to cope with.
Plan UK found that one in seven girls have struggled to afford sanitary products. Studies have also shown that those affected are less likely to complete their GCSEs or A-Levels and are more likely to struggle to find employment.
Research has also found that many women who struggle to afford sanitary products resort to using products for longer than is safe, or by using makeshift alternatives such as toilet paper or even newspaper. This carries an increased risk of infection, as well as being ineffective at controlling bleeding. This results in girls missing school and women missing work due to their anxiety over not being able to contain their bleeding.
Through our scheme, individuals who are exempt from NHS prescription charges would be eligible to receive free sanitary products from NHS pharmacies and GP surgeries. Our policy would extend to cover women with chronic gynaecological conditions that cause them to suffer from heavy periods, such as Endometriosis or Polycystic Ovary Syndrome.
Many girls and even women have a lack of education about their own bodies. Academies and free schools are not obliged to teach sexual and relationship education, and for a long time the mainstream curriculum has failed to provide meaningful content regarding women's health. In fact, studies have found that more than a third of school girls said they had to educate themselves on how periods work. With each pack, we would also include advice booklets on managing periods and accompanying health problems. This would advise women about period-related symptoms and when to seek help from a GP if they have abnormal symptoms.
We would aim to trial the scheme in Easington, Kerrier, Clacton-on-Sea, Tower Hamlets, Middlesborough and Liverpool as a first step. These areas contain some of the most deprived neighbourhoods in England, but also have different population densities and health infrastructures. Implementation would be handled by local Clinical Commissioning Groups, who are experts in the needs of their local area and would monitor the uptake and awareness of the scheme.
The scheme would run as a card-based opt-in principle, where those eligible apply for a free card, which they present at a pharmacy to collect their free sanitary products. An estimated 5.5 million women would be eligible, including 2.3 million women aged 20-55 who live in absolute poverty before housing costs, and 3.2 million girls aged 10-19.
If we look at similar card-based opt-in schemes from the past, such as the C card scheme (which provided free condoms to young people aged 13-25), the uptake was around six per cent with a total direct cost of £15.08 per user per year. Using this model, our scheme would cost £4.98 million a year and help over 330,000 women. However, we hope that our policy would be less expensive, as the cost of sanitary products is generally lower than condoms.
We believe our scheme would have economic benefits. For each workday missed, it costs an average of £82.86. Women who use our scheme would be less likely to miss work when menstruating. Whilst period poverty could be argued to be a symptom of deprivation, rather than a direct cause, the monthly financial burden of menstruation carried by these women could be alleviated, freeing up more of their budget to spend on other needs. Girls and young women who use our scheme would therefore likely have better employment prospects and less school absences.
Access to sanitary products prevents healthcare complications from using makeshift solutions, such as the potential for increased risk of infections and mental health problems. We also hope that through the advice provided alongside the products, we can empower women to know more about their bodies. Promotion of this scheme will destigmatise a sensitive topic and raise greater awareness of the problem in society.
Bethany Elder and Sifan Zheng are both medical students at King's College London.