07 June 2018
Teaching Excellence Awards
Dr Thomas Roulet, Senior Lecturer in International Management and Dr Brian Bell, Senior Lecturer in Economics, have both been awarded prestigious Teaching Excellence Awards by the King's Academy. Thomas Roulet won the award for Student Support and Brian Bell won the award for Sustained Excellence.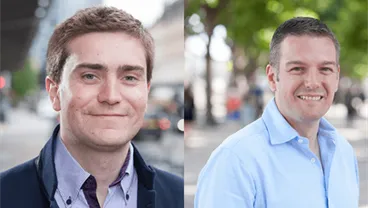 Teaching Excellence Awards
Thomas Roulet said, "Supporting students and giving them confidence to achieve their goals are parts of being an academic and at the heart of King's ethos. I'm very happy this contribution to our students' experience was recognised by the university", while Brian Bell said, "It's a great honour to be given this Teaching Excellence Award. It's particularly so given that it is students themselves who decide who should get the awards. I've always considered teaching an key component of what makes a good academic  - there is not much point to anything else we do unless we are also training up the next generation."  
A number of colleagues from the Business School were additionally shortlisted across numerous categories and deserve recognition for this: Brian Bell for Sustained Excellence; Patrick Boyle for Innovation in Teaching; Andrew McFaull for Education Experience; Thomas Roulet for Student Support; and Kamini Gupta in the Rising Star category.
This is the sixteenth year that the Awards have been offered. This year over 2,200 student nominations were received, which not only demonstrates the high regard our students have for excellent teaching, but also the level of competition to achieve such recognition. A panel of 15 students from across the college and a KCLSU representative considered the shortlist from each Faculty and selected three winners under each award category. 
Congratulations to all those that were shortlisted and to Thomas Roulet and Brian Bell for their awards!