25 June 2015
'The cloud is not green, cheap or safe'
According to CMCI's Head of Department, Professor Anna Reading, 'the cloud is not green, cheap or safe'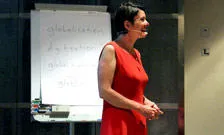 Professor Anna Reading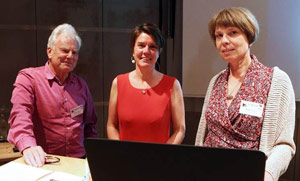 According to CMCI's Head of Department, Professor Anna Reading, 'the cloud is not green, cheap or safe'.
Professor Reading brought 'the cloud' back to earth last week with a Keynote to 200 people at the Public Concert Hall in Norkopping, Sweden, entitled Cloud Memories: The Material Fabrication, Frictions and Flow of Digital Memory. The keynote opened the Annual Cultural Studies International Conference in Sweden and included coverage in Swedish media. 
The talk drew on research from an international research project with Dr Tanya Notley at the University of Western Sydney, where Anna Reading is Visiting Professor, to show how saving our memories and data to the cloud is costing people's livelihoods and the earth, as well as destroying far older indigenous memories that include 60,000 year old rock art. 
"'The cloud' has material environmental consequences that include the use of rare earths in our digital devices" said Professor Reading. "Our tablets and mobile phones, desktops and cloud storage need rare earths which are difficult to process without radioactive waste and the potential destruction of ecological systems and communities."
The processing of rare earths to meet the needs of our thirst to save all to digital memory, is leading to international protests in Malaysia which Professor Reading and Dr Notley's research has been following.
In this story