16 September 2014
The key to the Domesday survey?
Domesday digitisation project wins funding from AHRC in collaboration with the Friends of Exeter Cathedral.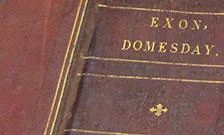 Binding for the Exeter Cathedral Domesday manuscript.
A major research project - hosted by King's College London and the Friends of Exeter Cathedral and funded by the Arts and Humanities Research Council (AHRC) - has been granted funding, meaning the 1,000-year-old manuscript of Domesday Book kept in Exeter Cathedral Library will be digitised and used by schools, local historians and academic researchers across the world.
The interdisciplinary team, led by Professor Julia Crick and Dr Peter Stokes, alongside Dr Stephen Baxter (University of Oxford), will subject the manuscript and its contents to intensive scrutiny in an effort to reconstruct how the survey worked and how its results were recorded. The results of the project will include a freely available digital resource for the use of schools, local historians, and academic researchers across the world. High resolution photography will produce a digital surrogate of Exon Domesday; an accompanying Latin text and English translation will make the text available for the first time; a database will record the detailed findings of the research, and a printed companion will also be published to provide a permanent record of the project.
Professor Crick said: 'Exon Domesday is one of the least exploited major sources for English medieval history. Its contents have never been published or translated in full, and yet it contains a sequence of detailed records from the era of William I which may hold the key to understanding the Domesday survey. 
'For the first time since 1816 the binding of Exon Domesday has been removed, allowing every part of its contents to be read, recorded and evaluated. The project will use new technology and traditional methods to analyse what Exon Domesday reveals about the making of the Domesday survey. I am delighted to be involved in a truly historic enterprise.' The project will begin in October and run for three years.
In this story