19 July 2018
The London Neuroreceptor Mapping Conference 2018
Katie Konyn, Communications Manager
Last week the London Neuroreceptor Mapping Conference 2018 was held at the Franklin Wilkins Building, King College London, 9 – 12 July 2018.
The London Neuroreceptor Mapping Conference 2018
This year marked the 21st anniversary of this conference, dedicated to unravelling the amazing complexity of the human brain in health and disease, which saw 300 international attendees hailing from over 20 countries come together and share the latest research developments in the field. Keynotes talks were held on 'The Neurobiology of Beauty' (Prof. Semir Zeki) and 'Of psychotic mice and men' (Prof. Oliver Howes) and the scientific programme also included a full roster of presentations, poster sessions on neuroreceptor mapping in the living human brain.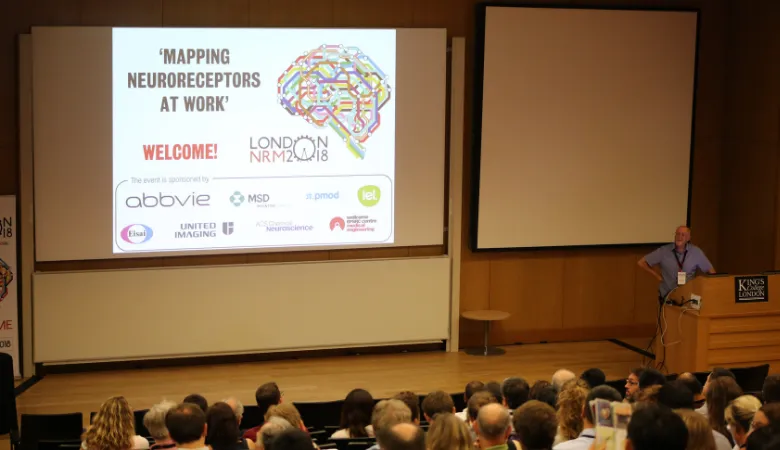 Delegates watching the opening comments from Prof Tony Gee
To learn more about the event and this crucial field of research we spoke with Professor Tony Gee from the Scientific Committee expert in the sector at King's College London's School of Biomedical Engineering and Imaging Sciences. 
Could you tell us a little bit more about the history and overall aims of the NRM conference? 
Our current understanding of molecule - protein interactions in the brain is largely based on the study of receptors and proteins in test tubes (in vitro). However, we know that living systems are much more complicated than in vitro systems. To be able to understand the complexities of the living human brain it must ultimately be studied in living human subjects, not only in test tubes or animal models. This is fundamentally important. The meeting aims to do exactly this – decipher the complex communication and function of the living human brain by using non-invasive imaging techniques such as Positron Emission Tomography (PET)
I understand this is the 21th anniversary of the event, would you be able to comment on any significant research developments in the field of neuroreceptor mapping during this time?
When the meeting was first started in 1997, there were less than 10 PET probes for studying CNS receptor function in vivo. In the space of 20 years this has witnessed a 10-fold increase in the number of imaging probes available. Notable examples include imaging agents for amyloid and tau imaging in dementias. We have also found that many brain receptor systems can behave quite differently in living humans than they do as isolated proteins in a test tube or in living rats and mice, so often new therapeutics developed based on animal research is either irrelevant for human disease, or at best is a gross approximation of the living human condition. This is why basic research in humans is so important for the future of our understanding, diagnosis and treatment of human disease. Also, within a year the first total body PET scanners will become available, with over 40 times the sensitivity of existing scanners. This will open up totally new areas of research including low dose paediatric imaging, dynamic brain-periphery interactions, imaging short-lived radiotracers for longer or being able to see receptors and enzymes that are just not possible to pick up using current technology.
Were there any other key scientific outcomes from the conference?
An initiative to standardise imaging data that is acquired in PET imaging studies worldwide - so that these can be used as a common resource for all researchers in the field.
Could you tell us about your own lab's research into using PET tracers and radiochemistry to understand disease models? 
Our own lab is engaged in making new PET probes for novel molecular targets including GABA, Glutamate, oxytocin, neuroinflammation to name just a few. The School of BMIS is also working alongside researchers from KCL IOPPN in Denmark hill to look at schizophrenia, autism, depression, dementias and many other CNS disorders. 
What about the next edition of the conference? 
Institutions made bid pitches at this meeting, for the delegates to vote for the next BRM meeting venue in 2020. The winners were Montreal Neurological Institute (Canada)
To learn more about the event and keep in with the team for the 2020 edition please visit the NRM website.