09 December 2019
The main political parties are not dealing with the public's concerns on crime
Louise Casey
LOUISE CASEY: The public see crime as the third most important issue facing the country, after the NHS and Brexit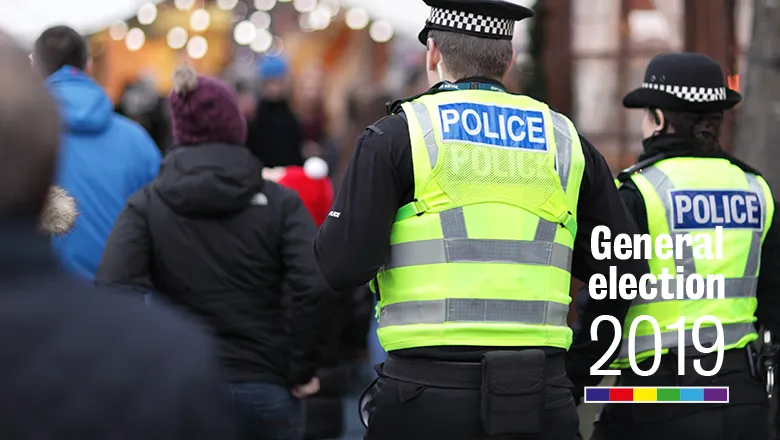 The Policy Institute is producing a series of comment pieces analysing election manifesto pledges from the different parties across a range of policy areas. Read the full series here.  
"Tough on crime, tough on the causes of crime" has to be the best summation of the best public approach to crime. And yes, I'm biased as I was around when the New Labour government pioneered their approach from 1997 onwards. But where has this commonsense policy directive gone since? Why do all parties not put evidence and common sense in place to develop the right action rather than be consumed by traditional or indeed outdated ideas to tackle the problem?
According to the Ipsos MORI Issues Index, crime is the third most important concern facing the country, after the NHS and Brexit. Yet the main parties' preferred approaches to tackling crime are not proportionate to the seriousness with which the public see the issue.
The most important crime issues on the public's radar that require a commonsense policy approach are the growing justice gap; the growing epidemic of violence, particularly for young people; and the ineffectiveness of prisons and probation. The three main parties have focused primarily on putting more resources into the system to address these issues. But they are consumed by the traditional "tough" versus "soft" narrative and fail to outline what will solve violent crime and re-offending.
The three parties' current proposals to address crime and its causes run up against three main problems.
The public believe the system is overburdened and unable to deliver
While the public put crime as their third top concern, we are heading into the election with the biggest justice gap to date: in June 2019, only 11.2 per cent of offences resulted in a positive outcome (with 7.4 per cent charged), down from 25.2 per cent in March 2015 (when 15.5 per cent were charged). More people are committing crime, but fewer and fewer are being brought to justice and facing consequences for their actions – or being effectively deterred or rehabilitated from offending again.
All three of the main parties' manifestos lack polices that will improve the efficiency of public services and are geared towards the most vulnerable victims. The discourse is about just money, rather than problem-solving. The need for the system to be effective is extremely important, as members of the public are increasingly concerned that the system is not working to keep them safe, especially from growing levels of violence. The way all parties tackle this problem is extremely narrow: they create small pots of money without tying it all together with a comprehensive strategy or long-term goal.
The public are concerned about finding a solution to knife crime and view it as an epidemic
Since 2014, knife crime has become a growing concern to the public as the number of such crimes has sharply increased. The Home Affairs Select Committee found the current Serious Violence Strategy to be "completely inadequate" and said there was a lack of clear government focus on keeping young people safe from rising levels of violence. Prevention is always better than cure – but for too long it has seen as "soft-touch" because of its invisible properties. Cuts to communities and wider local government services created fragmented communities, resulting in rising crime and deprivation.
The Conservative manifesto focuses on tougher measures on serious violence and has a clear focus on strengthening police powers through increased stop and search and new technology, as well as tougher and quicker sentencing for repeat knife offenders. The Labour and Liberal Dem proposals differ starkly, pledging more police numbers and to restore community policing and youth services.
Given the prevalence of knife crime, it is problematic that all manifestos are unable to find a balance between community solutions and tougher enforcement. By curtailing the use of stop and search powers for police, the Liberal Democrats and Labour are putting more police on the streets without offering them tools that are both proportionate and effective to stem the urgent and growing violent epidemic. The Conservatives go wrong in the opposite way. By focusing entirely on sanctions and policing powers, they fail to recognise the role of other partners in early intervention or offer improvements for communities struggling with rising violence to help counter toxic cultures and organised crime that produce young perpetrators and victims. The solution must contain components of tough and preventative measures as part of a wider strategy to tackle serious youth crime.
The public are concerned with the effectiveness of prisons and probation
The Conservatives' "tough" proposals on sentencing say nothing about the struggling judicial and prison systems. Providing extra spaces and refurbishment is ineffective in response to increasing reports of staff assaults, self-harm and rioting in prisons, where the workforce has been cut by a third and budgets have declined by 14 per cent in real terms since 2010.
By contrast, Labour and the Liberal Democrats directly tackle the resourcing and quality problems in prisons, with a much larger emphasis on reform and prisoner rights, by increasing the workforce and pledging for a presumption against short custodial sentences. But resourcing and restructuring probation does not lead to a solution. Re-offending has long plagued the system, where high rates have been constant for 20 years, well before the 2014 probation reforms were introduced.
Yes, we must be tough in response to crime. But we also must be just as tough and determined at pulling people back up and reintegrating them into society; it is a commonsense approach to deterrence and rehabilitation that is needed.
Dame Louise Casey is a former Victims' Commissioner and now Visiting Professor at the Policy Institute, King's College London.
Research support for this piece was provided by Crest Advisory.