27 September 2021
The next generation of King's entrepreneurs showcase their startups at London Demo Day
Entrepreneurship Institute
Entrepreneurs from King's College London, Imperial College London and UCL had the chance to pitch their businesses to investors and angels at this year's Demo Day.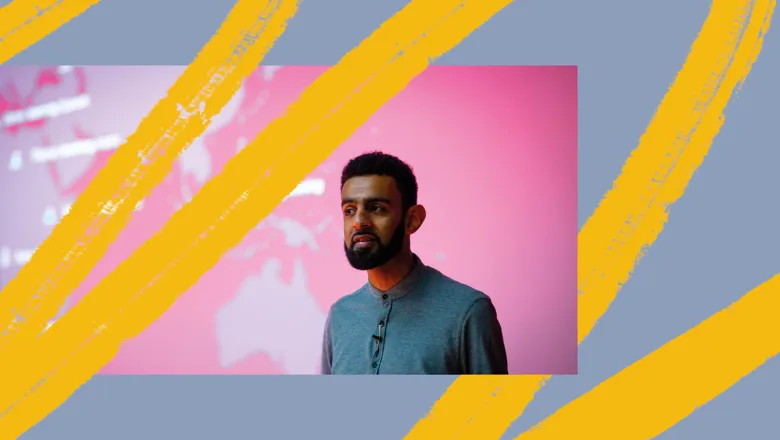 Five businesses from the King's20 Accelerator, the Entrepreneurship Institute's flagship programme,  were selected to take part in this year's event virutal London Demo Day event.
Joining students from the UCL Hatchery and Imperial Enterprise Lab, the UCL businesses, who are all in the early growth stage, got to pitch to an audience of over 600 leading investors, partners and alumni, including 207 angel investors. The event, previously hosted by King's in 2019, has been celebrated as an innovative way of introducing investors to innovation and entrepreneurial talent at UK universities. For almost 50% of investors in attendance this year, it was their first time interacting with startups from universities.  
The ventures covered sectors including HRTech, EdTech, hardware and social impact, representing the huge breadth of businesses coming out of London's top universities.
The five businesses featured this year from King's were: 
Deliveroo for clothing alterations and repairs.
The clothing repair and tailoring industry is incredibly fragmented and is totally untapped by convenience and technology. Sojo connects customers to local seamsters through our app and bicycle delivery service so that people can get their clothes fixed or fitted with a few simple clicks on their phone.
Founder: Josephine Phillips (BSc Physics and Philosophy) 
Enterprise talent platform for technical workers.
The war for talent is almost impossible to win. On average, it's taking 66 days and 38 hours of internal engineering time to make one tech hire. 40% of tech vacancies remain unfilled. Hackajob is a curated, online marketplace that technically screens engineers before matching them with companies looking to hire. They've proven to be 6x more effective than the industry average, reducing time to hire to just 21 days and saving 75% vs agency fees in the process.
Founder: Mark Chaffey (BSc Management) 
Connecting people who want to learn, with people that can teach.
Tutoring companies make money the wrong way. By charging booking fees on every lesson (with no alternative), tutors stop using the platform after a few hours. Leakage will grow faster than acquisition and as a result, tutoring companies will never be able to scale. For tutors, standing out is difficult. They are assessed by non-teaching metrics like profile completion. As a result, parents have no way of assessing a good tutor. 
We're helping tutors create their own brands. Tutors can answer questions (asked by students) or upload resources. They answer questions because it gives them visibility. They upload resources because they can make money. Students can follow up by booking lessons created by our teachers. These lessons can take place in person or online. We're the only platform to remove booking fees on 1 to 1 lessons.
Scoodle will become the 'home' for teachers - this is much better than the whatsapp/facebook groups they are currently using. As a result, Scoodle will establish the 'teaching identity' - similar to what Linkedin have done to create the 'professional identity'.
Founder: Ismail Jeilani (BSc Political Economy) 
Delivering immersive virtual medical education to all healthcare disciplines.
Medical Education relies on traditional methods to deliver teaching with limited engagement and interactiveness. Self-directed learning among medical students is highly variable, and they are being forced to explore extracurricular ways to bridge the gap between theory and practice. Virtuoso is a robust and validated platform delivering tailored, interactive and immersive content using virtual and augmented reality.
Founders: Alexander Zargaran (Academic Foundation Doctor)
A talent ecosystem that supports inclusive employment and continuous upskilling for the future of jobs.
The traditional recruitment process is not adapted to global changes. As the employment market becomes global, it requires modern and effective solutions. Linear presentation of candidates via CV requires a time-consuming screening process and limits employment opportunities.
PitchMe creates a unique talent marketplace in the recruitment landscape. It empowers candidates to demonstrate their knowledge and abilities allowing anyone with relevant skillset to apply for a position regardless of their age, gender, formal educational background and employment history. We introduce an anonymous skillsourcing process, relying on multilayer profiling of candidate's skills and matchmaking between those offering their skills and those who need them. By analysing a range of digital sources, the profile identifies what skills a person has, and what he needs to improve in order to qualify for a particular occupation. It shows existing workers new ways of transitioning between occupations and sectors where their skillset is demanded.
Founder: Gregory Asmolov (Lecturer in Digital Entrepreneurship and Marketing, Department of Digital Humanities at King's College London)
For Investors 
Sign up to our monthly "behind the scenes" update on what's happening at the King's20 Accelerator at the Entrepreneurship Institute. You will receive a monthly newsletter which includes exclusive invites to our events, updates on which ventures are raising as well as news from across the Entrepreneurship Institute.