18 November 2022
"The Struggle for Demarcation of Indigenous Lands is for all Humanity"
Dr. Eloy Terena, a lawyer, researcher, and Indigenous land rights activist from Brazil, spoke to Transnational Law Institute Co-director Octavio Ferraz about the struggle for indigenous rights in Brazil, the destruction of their ancestral lands in the Amazon region, the notification of the International Criminal Court against President Bolsonaro for genocide and ecocide and the renewed hopes brought about by his loss in the recent elections of October 2022. Watch the full interview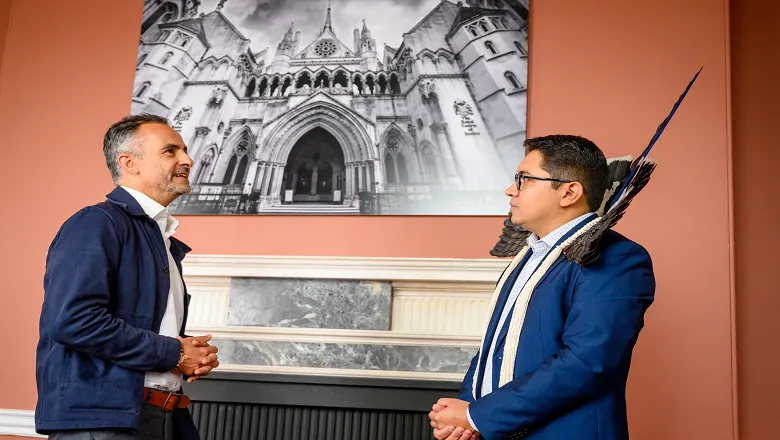 Photo: David Tett
Dr. Eloy Terena, a lawyer, researcher, and indigenous land rights activist from Brazil, is the legal coordinator of the Brazilian Indigenous Peoples Association (APIB – Articulação dos Povos Indígenas do Brasil). Born in Ipegue village in Mato Grosso do Sul, he was the first in his family and community to attend university, and now holds doctorate degrees in social anthropology and sociology and law. His postdoctoral research at Brandon University in Canada focused on territorial conflicts. He has also conducted research under a postdoctoral fellowship at the School of Advanced Studies in the Social Sciences (EHESS) in Paris.
On the 11th of November 2022, Dr. Eloy Terena spoke to the Transnational Law Institute (TLI) Co-director, Professor Octavio Ferraz. "The Struggle for demarcation of Indigenous Lands is a Struggle for all Humanity", says Eloy. "The constitutional action at the Supreme Court to force the Brazilian government to protect indigenous peoples against Covid-19 was unprecedented as indigenous peoples' associations such as APIB were recognised as having locus standi for the first time."
While Eloy recognises that "things have never been great for indigenous peoples in Brazil, since the invasion by the Portuguese in 1500", he claims that "the last four years have been particularly destructive as the government has not only captured and dismantled all agencies that were supposed to protect the indigenous peoples and the environment but incentivised and facilitated illegal acts such as the invasion of our lands for illegal logging, mining and cattle farming. Violence against indigenous peoples has never been higher. This is why we denounced President Bolsonaro in the ICC for the crimes of genocide and ecocide."
Dr. Eloy Terena expresses hope that the new elected government of Brazil will improve things: "The promise to create the first Ministry of the Ancestral Peoples is certainly positive, but we need to see if indigenous peoples will be genuinely represented in it, and will fight for this."
Watch an interview with Professor Octavio Ferraz on the challenges of the new Brazilian government: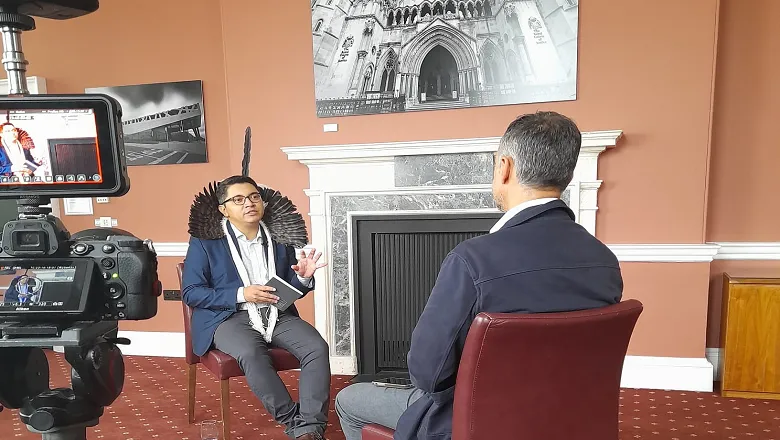 Photo: Omri Levin
In this story