20 February 2020
Three King's Business School students selected for Clinton Global Initiative University
Support for their taboo-busting, young people empowering, sustainable crop-growing ideas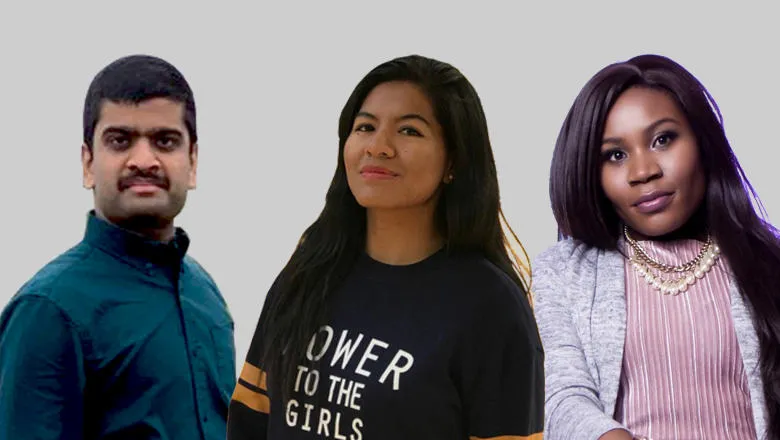 Left to right: Stephen Anurag Prathipati, Mariela Salas Sanchez and Joy Nyabwari are the three Public Policy and Management MSc students chosen for the Clinton Global Initiative University scheme.
Three students studying for our MSc in Public Policy and Management have been selected as fellows of the Clinton Global Initiative University scheme for the next generation of leaders and social entrepreneurs.
Fellows are required to commit to addressing a pressing local or global challenge through a measurable project that they will develop either individually or with their peers.  The students participating in this year's programme are:
Stephen Anurag Prathipati, who aims to develop a more inclusive approach to agriculture in the Rayalaseema region of Andhra Pradesh, India, by supporting local farmers to introduce millet production alongside rice-growing.  Millet requires less water than rice to grow, making it a more sustainable and nutritious crop.   Stephen will also work with the local community, local government and other stakeholders to develop Millet processing units to develop export markets for the grain while keeping more of the value chain locally.
Mariela Salas Sanchez, who plans to help the BiblioKids community library project in a disadvantaged area of Arequipa, Peru to expand to new locations.  The project helps empower children and teenagers in the region through play, social activities and learning support to help reduce the numbers leaving school without completing their high school education.  This library also provides workshops for local parents to help them create new sources of income for their families.
Joy Nyabwari, who plans to tackle period poverty and challenge the taboos around menstruation through her 'Yellow Box' scheme.   She wants to broaden the conversation around how period-poverty impacts disadvantaged women and girls, and plans to pilot the Yellow Box scheme in some of London's most economically disadvantaged boroughs, making sanitary protection products visibly available in public places. 
To help them to deliver their project, and to support their future development, the students will be given access to training and mentorship opportunities, potential funding streams provided by partner organisations, and to a wide range of international experts and changemakers.
They are also invited to participate in an annual meeting where they will meet policy makers, fellow students and alumni from the scheme from around the world.  This year's annual meeting, hosted by Bill and Chelsea Clinton, takes place in Edinburgh in April.