19 November 2018
Tony Blair: Progressive Politics in an Era of Populism
Tony Blair discusses Progressive Politics in an Era of Populism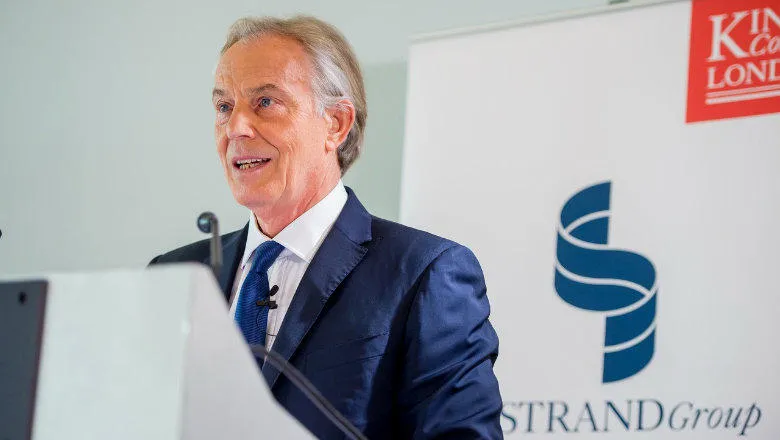 Tony Blair in discussion
On Wednesday 14th of November Tony Blair delivered the thirty-third Strand Group, discussing 'Progressive Politics in an Era of Populism'. Speaking to an audience of King's College London students, journalists and friends of The Strand Group, the former Prime Minister talked about the case for "progressive politics, rejecting a populism of the left as the answer to the populism of the right". Introduced by Professor Edward Byrne AC, the event was hosted at the British Academy. 
Comments from our students include: 
'Tony was charismatic and a skilled orator who gave a fascinating, insightful and engaging talk on a key aspect regarding today's party politics'. - Matthew Littleford
'The Tony Blair talk was fascinating as it was current. His real-time analysis of current Brexit issues tied in to fascinating ideas of our changing society in the future, highlighting the absolute importance of technology and enterprise. Hearing the views and opinions of someone in office for quite as long as he was, was extremely eye-opening'. - Jonathan Abeles
'It was a pleasure to attend the Tony Blair talk and have direct access to a former Prime Minister. It is rare that there is an opportunity to ask questions and engage with such a figure in a selected audience. It was a real privilege.' - Anthony Broxton 
'It was a fantastic opportunity to see Tony Blair speak last week at the British Academy. He was so articulate, particularly in eviscerating Theresa May's Brexit deal and arguing only a second referendum can close the rifts opened by the first.' - Oliver Lund
Click here, for more information about the Strand Group and to join the mailing list.