16 March 2018
Too Cool for Plastic: Richard Walker, Iceland Foods Ltd.
On 15 March we welcomed Richard Walker, Director for Sustainability and MD, The Food Warehouse by Iceland Foods Ltd., to King's Business School, in collaboration with the Entrepreneurship Institute, King's College London Business Club (KCLBC) and King's Entrepreneurs Society.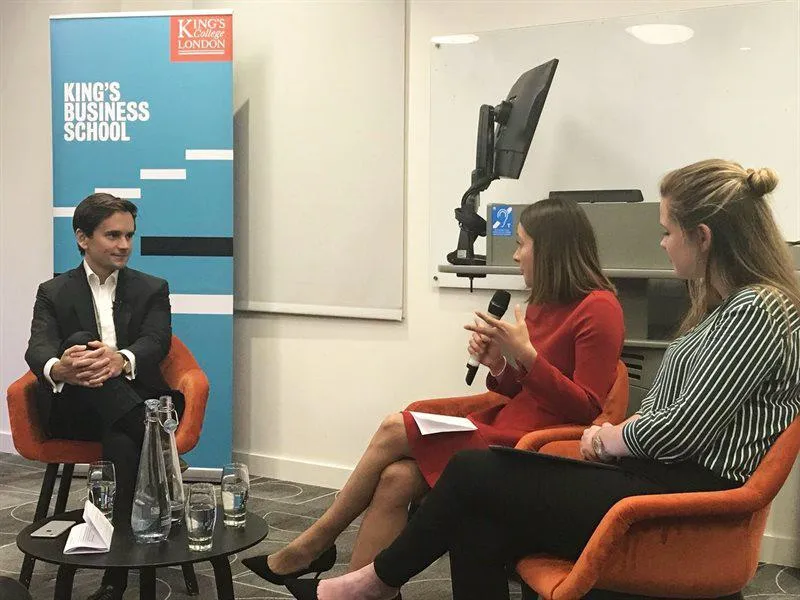 Too Cool for Plastic: Richard Walker, Iceland Foods Ltd.
In conversation with Emily Brothwood, Enactus KCL and Gabriela Gutierrez Huerter O, Teaching Fellow in Management, Richard Walker talked about Iceland Food's landmark announcement becoming the first supermarket to go 'plastic-free' for its own brand products. This initiative has been in the works for months, Walker saying that he 'didn't want to be seen as jumping on a bandwagon' and that he truly believes this is the future for not only Iceland Foods but for all supermarkets. Although getting everyone on board wasn't easy, when Walker first proposed the idea to Iceland's board members, he was told it was an impossible mission but after going through the numbers everyone was convinced.
When asked about how he weigh's the economics with Iceland's environmental commitments, Walker stated 'any business is there to make money and you must act with good economic intentions, we went through every food category and did the numbers, in the long term we hope it will fund itself'. In fact, since announcing to go plastic free by 2023 Iceland has seen an increase in sales, proving shoppers really care about the cause and are ultimately 'voting with their wallets'. In the future Walker also envisions Government funding for brands with initiatives like Iceland Food's as well as plastic taxes punishing the heavy use of non-recyclables. 
Overall, Walker believes everyone can make a difference and an impact, even companies who don't directly sell high levels of plastic waste. After Iceland Food's announcement, the UK government congratulated the initiative and called on other supermarkets to do the same but was forced to recognise the levels of waste they produce using plastic cups and other throw away items. Walker says many of their manufacturers are already on board and even have their own ideas to make to help, Walker is also encouraging their suppliers to do the same. Retailers, manufacturers and consumers can all make simple changes, such as banning paper cups or drink bottles, Walker stated if Iceland Foods can remove plastic from its packaging, bigger companies can too'.
Thank you to Richard Walker for an insightful evening, and thank you to Emily Brothwood and Gabriela Gutierrez Huerter O for hosting. It was a great night with many interesting audience questions and insights.
Richard-walker800x450.jpg