16 August 2018
Top Marks for King's Maths School
Female students lead the way as school returns highest ever 'A' Level maths results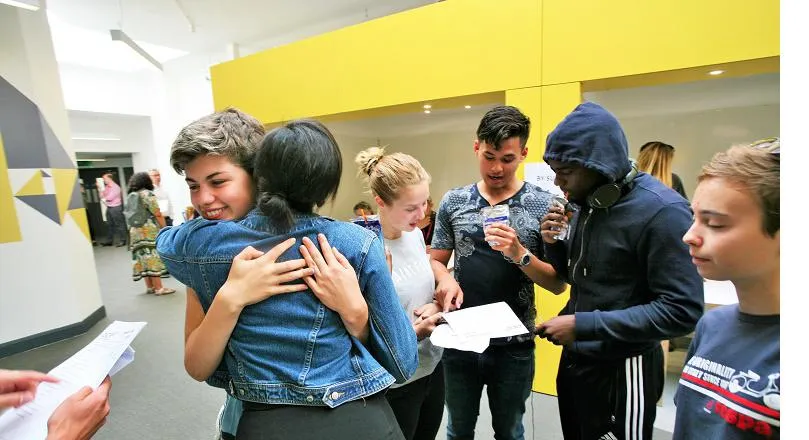 Results
For the first time female 'A' Level students at King's College London Mathematics  School have outperformed their male counterparts and secured a higher proportion of top grades across all STEM subjects taught at the school.
The results buck the general trend of low female attainment across the Science, Technology, Engineering and Mathematics (STEM ) subjects, and cap an outstanding year for both the male and female students, who are ranked among the highest performing in the country.
While 100% of female students studying maths achieved an A grade 'A' Level or above, for male students the figure was 98%. For physics, 69% of males secured the highest grades, compared with 77% for female students. The trend continued with Further Maths, where 100% of female students scored grade A or above, compared with 88% among males.
The overall percentage of pupils who secured the highest 'A' Level grades (grade A and above) is 88% - male students 85% and female students 92%. The 2018 results are similar to the 2017 return, when the school attained the best results in the country* In Maths and Further Maths, 95% of all grades were A or above, the best in the school's history.
Speaking about the results,  the School's Head Teacher Dan Abramson said: 'King's College London Mathematics School continues to add a huge amount of value, with students on average performing more than one whole grade better in each subject than predicted by their GCSE performance.
'This figure would place the school in the top 0.5% of schools in terms of value added. No other selective school comes close to adding this level of value.
'It's no overstatement to say that the school is changing the lives of our pupils who are drawn from  diverse and non-traditional backgrounds. The hard work and outstanding results of this cohort of students means that they will be taking up places at some of the world's leading universities, including Oxford, Cambridge, MIT and King's itself.'