26 June 2023
Tribute to Professor Mark Monaghan, MBE
We are saddened to learn of the recent passing of Professor Mark Monaghan, Professor of Echocardiography and Consultant Clinical Scientist at King's College.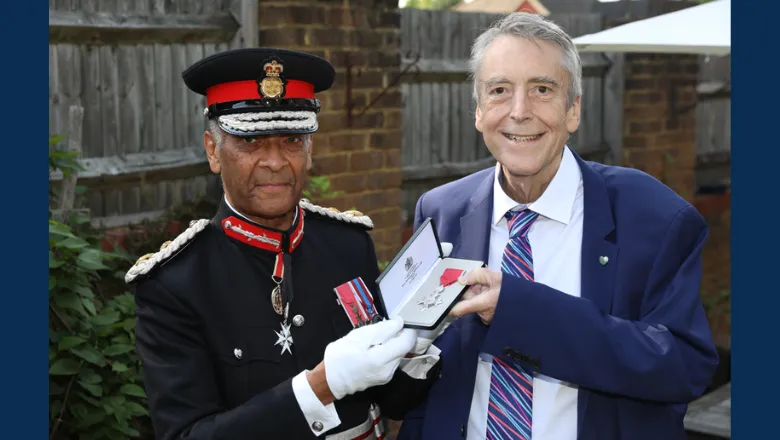 Professor Mark Monaghan receiving his MBE for services to cardiology.
Professor Monaghan led clinical and academic echocardiography for more than three decades at King's College Hospital NHS Foundation Trust until his retirement due to ill-health in 2021, and in May this year was awarded an MBE for his services to cardiology at a special ceremony.
Despite being a full-time NHS employee, Mark Monaghan had a remarkable passion for education, research and innovation throughout his professional career. Having gained a Masters Degree in Physics and Engineering, he went on to become one of the first Healthcare Consultant Scientists at King's College Hospital.
He was consistently involved in the development of new imaging technology throughout his career, from the use of contrast agents in echocardiography to 3D imaging of the heart to adjunctive echocardiography during minimally invasive heart valve implantation. These endeavours were characterised by close collaboration with industry, which helped to substantially increase the impact of the work.
He authored more than 400 peer-reviewed papers, wrote three books and contributed to multiple book chapters. Professor Mark Monaghan was an outstanding teacher. He mentored countless students, clinicians, echocardiographers and scientists, many of whom have gone on to distinguished careers themselves. His regular weekly seminars attracted a multidisciplinary clinical audience and his lectures at national and international meetings were always exciting, informative and popular. His academic contributions were recognised by the award of a Professorship of King's College London in 2010.
Professor Monaghan co-founded the British Society of Echocardiography and served as President of the European Society of Echocardiography. He worked closely with both the British Heart Foundation and the British Cardiovascular Society. He was also awarded an Honorary Fellowship of the Royal College of Physicians in 2006.
Professor Ajay Shah, Executive Dean of the Faculty of Life Sciences & Medicine at King's, who worked closely with Professor Monaghan for many years and collaborated on several areas of research, said: "Mark's accomplishments in the world of echocardiography are truly remarkable, and he leaves behind an incredible legacy, not just in what he achieved but also through all of those he has taught and inspired at King's. It was an honour to know and work with him, and I offer my sincere condolences to his family and friends."