04 May 2020
Get Quizzical with this week's creative prompt
Amy Brown, Projects Manager - Student Engagement, Culture
#TakeTimeIn with an imaginative quiz for this week's prompt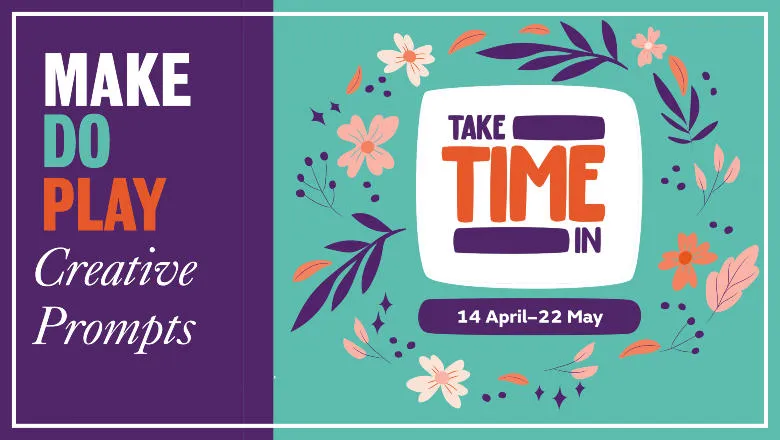 Take Time In with Make Do Play
Until the 22 May, Make Do Play will be collaborating with Take Time In, your new online wellbeing space, to bring you creative prompts from staff and students, online sessions and to give you the opportunity to win creative prizes!
This week, in honour of KCLSU's big charity doggy daybreak quiz, we are exploring questions and answers. Get your tickets now for Wednesday's quiz to win prizes, see cute dogs and raise money for charity. For those who don't win, (or those that do) why not play the imagination quiz below with your friends, to also get your creativity flowing.
Imagination Quiz 💭❔
This week's prompt is all about firing up your imagination and getting creative (and maybe a bit silly) with a friend. 
Prompt Ingredients: writing materials (physical or virtual), a friend, your imagination.
1) Get a friend involved - and each come up with 10 quiz questions:
Questions you/they do not know the answer to. For example - what do each of these animals look like - Babirusa, Gerenuk, Fossa, Echidna, Kakapo? 
Questions which there is not an answer to - what is the national dish of Mordor, Atlantis or El Dorado? 
2) Swap your 10 questions and without googling - answer them. Use your imagination and try and be as thorough as possible. For example, how would you make the national dish of Atlantis, what is the history behind it becoming the national dish, what does it look like? Smell like? Taste like? Maybe draw pictures?3) Share back with your friend your response to their quiz - you might want to give each other a 'prize' for the silliest, funniest or most realistic sounding answer.4) How did it feel to come up with the questions vs. answers? Did you find it prompted you to think differently? Did you enjoy sharing your responses with your friends?Some more question ideas:
Make-up some words - ask your friend to give the definitions and use them in a sentence
Picture round - find some strange looking animals such as funny dogs (keeping the pawsome theme) or draw some fantastical creations - ask your friend to name them and describe what they like to eat.
Share your questions and answers with us, for a prize #TakeTimeInKCL
Each week of Take Time In, 10 lucky people will be in with a chance to win a special prize related to that week's prompt. Take part in the associate event (below) or share your response to the prompt on Instagram or Twitter with the #MakeDoPlay and #TakeTimeInKCL. If you don't want to share your work itself, why not let us know what you enjoyed about it? 
Make Do Play is an annual programme which encourages staff and students in the #KingsCulturalCommunity to take part in creative activities for their wellbeing. With many people spending increasingly more time at home, physically distanced or in isolation, keeping active, connected and stimulated is high on everyone's agenda. While in-person activities may have stopped, for the time being, our regular creative prompts are still carrying on, challenging the #KingsCulturalCommunity to take time out during the week to engage in creative activities. Prompts are designed for staff and students of all abilities and can be done with regular household items.