27 September 2022
Unique prostate cancer imaging data made available to researchers
The imaging dataset PROMIS (Prostate MRI Imaging Study) tested the ability of multiparametric MRI scans to detect prostate cancer. Results showed PROMIS detected 93% of prostate cancer cases, more than double the 43% of prostate cancers detected in TRUS biopsies.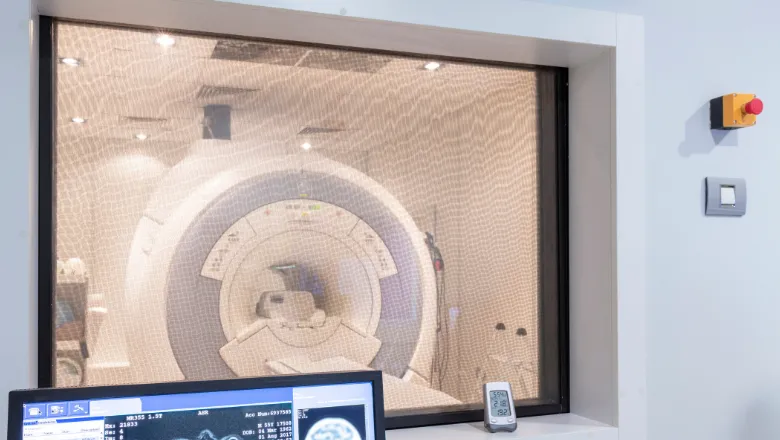 King's College London were one of multiple universities involved in the Prostate MRI Imaging Study (PROMIS) – a unique clinical imaging dataset developed by the National Cancer Imaging Translational Accelerator (NCITA) in a partnership with the ReIMAGINE Consortium.
PROMIS, the new imaging dataset, can now be accessed by clinical researchers, initially on an application basis, for artificial intelligence (AI) research to speed up imaging diagnosis of clinically significant prostate cancer using novel machine learning tools.
PROMIS was a landmark multi-centre study funded by the National Institute for Health and Care Research (NIHR). The study assessed the accuracy of an imaging technique called multiparametric MRI (mp-MRI) for diagnosing prostate cancer compared to a detailed biopsy procedure.
A total of 576 men underwent a mp-MRI scan, followed by a systematic transrectal ultrasound (TRUS)-guided biopsy and a 5 mm transperineal template mapping (TPM) biopsy across the entire prostate.
The results, published in the Lancet, showed that mp-MRI scan was highly accurate in detecting 93% of prostate cancers compared to 43% for the TRUS biopsy test. The mp-MRI scan was also shown to accurately identify about 25% of men who did not have prostate cancer and who might safely avoid having a biopsy.
Combined with other high-profile studies (for example the PRECISION study), the results from PROMIS have informed changes in international guidelines for prostate cancer care to reduce the proportion of men having unnecessary biopsies and improve the detection of clinically significant prostate cancer.
The 2019 UK National Institute for Health and Care Excellence (NICE) guidelines and the 2019 European Association of Urology guidelines now recommend that all men with a suspicion of prostate cancer receive a mp-MRI scan as an initial test prior to prostate biopsy.
King's College London is one of nine world-leading medical imaging centres in the UK that forms the NCITA, a national infrastructure consortium aiming to accelerate the standardisation and clinical translation of imaging biomarkers into clinical trials and the NHS. King's is also an academic partner of the ReIMAGINE consortium.
As a member of NCITA, King's College London leads studies that receive support from NCITA. This includes a NCITA Exemplar study – projects funded by NCITA to tackle unmet clinical needs for improved diagnosis and patient care – led by Professor Tony Ng and Dr Gargi Patel entitled: Exosome analysis of HER2 expression and heterodimerisation in patients from the HERPET study at Imperial College London.
In this story