16 April 2015
Uwe Johnson's secret life
Professor Patrick Wright will appear on BBC Radio 3 on Sunday with a programme that uncovers the little-known story of German poet Uwe Johnson's relocation to the Kent town of Sheerness in the 1970s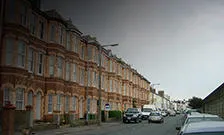 Sherness
Professor Patrick Wright will appear on BBC Radio 3 on Sunday with a programme that uncovers the little-known story of German poet Uwe Johnson's relocation to the Kent town of Sheerness in the 1970s.
Johnson won considerable acclaim in 1959 for his first published novel, Speculations about Jakob, and garnered the nickname 'the Poet of the Divided Germany'. But when this serious, uncompromising writer, who also lived in New York in the mid-1960s, decided to settle in a town he called 'much maligned', it was a move which many of his contemporaries found difficult to understand.
A Secret Life: Uwe Johnson in Sheerness explores why the writer chose Sheerness, talking to his neighbour and other friends who knew him during his years on the Kent coast. Patrick also hears about Johnson's earlier life, growing up under Hitler and then Stalin, and how this shaped his approach to writing fiction, in a programme which includes new translations by Damion Searls of Johnson's writings from his time in England.
The programme is the result of a research project funded by the Patsy Wood Trust, and is also connected to a new Leverhulme Fellowship which Professor Wright will commence in September 2015.
In this story