19 April 2021
War Studies students propose new approaches to tackling hate crime in London
A group of MA students undertook a service-learning module on investigating hate crime reporting in London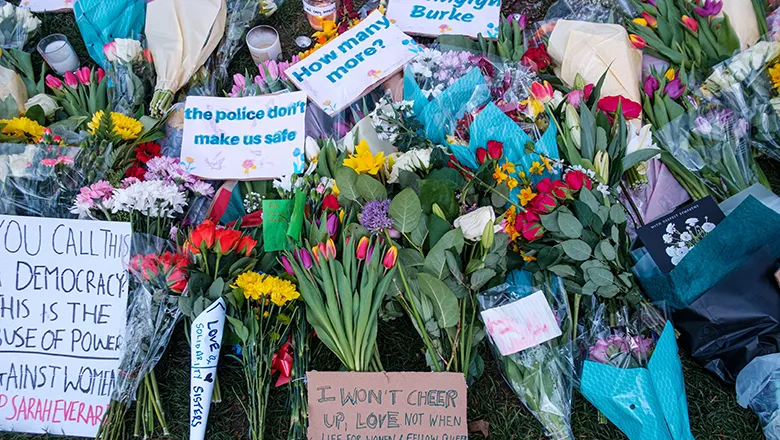 A group of MA students in the Department of War Studies at King's College London will be bringing a number of proposals aimed at improving hate crime reporting in London, ahead of the Mayoral Elections in May.
The students, who are undertaking a King's Service-learning module that is co-delivered by community organising charity Citizens UK, share their project in their own words:
The events of last month following the tragic murder of Sarah Everard and the police response to public concerns over women's safety, brought into sharp relief a project we've been working on with Citizens UK since January concerning campaigning against hate crime in London.
Through extensive listening and meetings with over 30 hate crime organisations and community groups, we were shocked by the inconsistencies in the reporting process for hate crime across London boroughs, and the lack of effort made by authorities to address the intersectional nature of hate crime. We have heard stories of women and minority groups feeling that they won't be listened to by police and that their cases won't be taken seriously.
While the police classification of misogyny as a hate crime from autumn 2021 is a step forward in this process, the dismally low conviction rates for sexual assault indicate systemic flaws in sentencing procedures. As we enter the final stage of this project, we're reaching out to people across London to participate in our survey and help us ensure this becomes a mayoral priority.
Share your experiences as part the students' hate crime survey
Our Campaign
The campaign is focused on the 2021 London Mayoral Election, with the aim of establishing a more efficient and consistent reporting process for hate crime. In partnership with Citizens UK, we have spent the last two months listening to local anti-hate crime organisations, schools, and community groups in order to hear their perspectives on the issue of hate crime and what changes are required to the reporting process.
In these discussions we have found that the way in which hate crime is classified and reported is inconsistent across London boroughs, leading to a lack of clarity among the community regarding who to go to for help and how to report the occurrence of a hate crime. Furthermore, issues like misogyny are often ignored by the police, and conviction rates for these crimes are consistently low. Our goal is to bring these issues before the mayoral candidates on the 28thApril at the London Citizens Mayoral Assembly and have them commit to directly addressing these issues once they are in office.
Response to recent police action
In light of the murder of Sarah Everard, as well as the police shutdown of the vigil held for the victim in Clapham Common in March, we began reflecting on the need for change, as well as how the community can effectively come together to help solve these issues. The danger that women face on the streets of London has become increasingly apparent over the last month, and our campaign aims to bring this issue, as well as the broader problem of hate crime, before the mayoral candidates and guarantee a commitment from them to tackle the problem.
Sarah Everard's death left many people feeling confused and anxious about where to direct their energy and attention regarding these issues. Through our campaign we have found that a community organising approach is a hugely effective way of representing the interests of affected people, and confronting those in power in order to create change. A community organising approach involves listening to members of the community, creating a network of interested groups and individuals, and confronting those in power as a united and powerful group. It is an effective and powerful way of uniting people with shared interests, and giving groups and individuals a channel through which they can direct their grievances.
Our plan moving forward
Our plan moving forward is to continue speaking and listening to a range of parties including women's shelters, community support groups, anti-hate crime organisations, and schools to refine the issues that we want to propose. We are also running a public survey to find out about people's experiences of hate crime and the reporting process. We will then finalise our asks before bringing them before the mayoral candidates at the London Citizens Mayoral Assembly on 28th April. This will be a public event, and we want as many of our network to attend as possible in order to put pressure on the mayoral candidates to make promises on how they aim to address the issue of hate crime and women's safety. Therefore we are attempting to publicise and share information regarding the campaign as widely as we can in order to both increase awareness of the campaign issues and to maximise attendance for the assembly.
This campaign is being organised by the following War Studies Masters Students:
Lucy Mackie
Lizzie Hart
Franziska Schwebel
Mediha Inan
Grace Evans
Alexandra Ludwig Bernado
Brayden Beckius
Mélia Tabani
Alex Howard
Sarah Sanbar
Nicola Hope
Hasom Lee
Qi Yang
Ming Huang
Hugh Atkinson
Matthias Retel