03 March 2022
Ways to support communities impacted by the invasion of Ukraine
Information on how you can help through donations and volunteering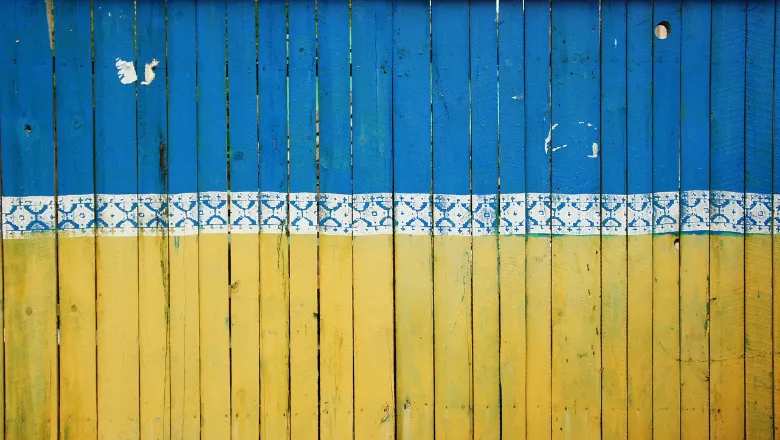 Many of our students, staff and alumni have expressed concern and asked what they can do to help communities impacted by the invasion of Ukraine. Below you will find information about how you can support students and academics, as well as information about organisations that are raising emergency funds, seeking the support of volunteers and collecting essential items.
We will regularly update this list of ways you can help so keep checking back to ensure you have the latest information (updated Monday 28 March 2022).
Support for students and academics
Host a displaced student or academic: King's is partnering with Citizens UK to lead on a sponsorship model for UK universities to best implement the Government's Homes for Ukraine scheme. Under this scheme, the partnering organisations will use their shared experience and resources to identify and place students in universities that offer a similar degree from which they were displaced. The students will be hosted by the university community in suitable homes, with assessments carried out by the Local Authority. Hosts will receive Government funding of £350 per month and personal costs of living will be supported via Universal Credit. Any additional direct financial support needed by the students would be covered by the hosting university. King's continues to work with the Council for At Risk Academics (CARA) to identify at risk academics and match them with relevant departments.
If you are interested in hosting a student or an academic member of staff, please register your interest by completing this form.
King's College London Student Support: Support from our alumni and the King's community is vital to ensure we can continue to provide emergency funding to students via the Hardship Fund. This fund is accessible to any student who finds themselves, through no fault of their own, struggling financially at university – which includes those impacted by the invasion of Ukraine. If you would like to support King's students at this time, please visit our donation page.
The Council for At Risk Academics (CARA) provides urgently-needed help to academics in immediate danger, those forced into exile, and many who choose to continue to work in their home countries despite serious risks. Cara also supports higher education institutions whose work is at risk or compromised.
Russia's invasion of Ukraine is having a devastating effect on many Ukrainian academics and their families. CARA is supporting these individuals and Russian academics who have publicly voiced their opposition to the invasion of Ukraine and are at risk of dismissal, arrest and even imprisonment.;
Further information:
Information about support CARA is providing to academics and their families can be found on their Ukraine Crisis webpage;
Help CARA increase their capacity to deal with the Ukraine and other crises by donating to their 10x20 Appeal;
At-risk academics can get support by completing the CARA application form.
Donate money
Current advice, including from the Mayor of London, is to donate money instead of essential items (such as food, clothes and medical supplies), as many organisations have been overwhelmed with donations. The fundraising appeals listed below are signposted to by UK Fundraising.
The United Kingdom for UNHCR is providing protection and humanitarian assistance, including emergency shelters, repairs for homes damaged by shelling, emergency cash assistance and protection such as psychological support.
The Ukraine Humanitarian Fund is one of the UN's country-based pooled funds. Contributions are collected into a single, unearmarked fund and managed locally under UN leadership. As crises evolve, funds are made directly and immediately available to a wide range of partner organisations at the front lines of response. This way, funding reaches the people most in need.
UNICEF are concerned for the safety and wellbeing of children who have become separated from their families. They are helping to provide families with access to clean water and nutritious food, ensure that child health and protection services are sustained, and are working with their partners and the UNHCR to assess the refugee situation across neighbouring countries.
British Red Cross have established a Ukraine Crisis Appeal to provide food, water, first aid, medicine, warm clothes, and shelter. The British Red Cross is part of the Disasters Emergency Committee (DEC), which unites 15 member charities who are experts in humanitarian aid and specialists in different areas of disaster response.
Voices of Children helps children affected by the war in eastern Ukraine with psychological and psychosocial support. The Foundation has been working in Ukraine since 2015. They are currently providing non-stop assistance to affected children and families from all over the country, emergency psychological assistance and assisting in the evacuation process.
Choose Love are appealing for donations for supporting projects providing vital aid and services to those still in and fleeing Ukraine, including emergency medical care, food, shelter, clothes, legal support, mental health support and specific support for the LGBTQIA+ community.
The Help Ukraine Emergency Appeal has been organized on behalf of the Association of Ukrainians in Great Britain (AUGB). This Go Fund Me fundraiser is supported by several Ukrainian organisations in the UK.
The Ukrainian War Crisis - Civilians Medical Help Appeal is raising funds to restore old ambulances and buy urgently required medical supplies and other essential items, and drive them to Ukraine. This is helping to get urgently needed medical supplies through to support the neonatal and children's hospitals which have recently been bombed. The Life Lines project (which is supported by King's College London and King's Health Partners Academic Health Sciences Centre) is supporting this South London community organisation. As of 4th March, the Civilians Medical Help Appeal have raised over £32,000 (including initial PayPal and cash contributions) and have secured ten ambulances (purchased or donated), five of which have already gone directly to hospitals in Kyiv (Kyiv City Hospital, Myhailovskyi Hospital and large children's hospital Ahmadet), all filled with medical supplies and equipment. Donate to the Civilians Medical Help Appeal via JustGiving.
Donate to local community organisations
Food For All, a volunteer-run food relief charity based in central London, are establishing a field kitchen for refugees and struggling people in the Ukraine. They are planning for two of their experienced volunteers to travel to the Ukraine to build a mobile kitchen, with a capacity of 8,000 healthy meals per day. You can donate to Food For All to support with the costs for this initiative.
Wonder Foundation, a women-led charity dedicated to transforming the lives of women, girls and their communities through quality education, is working with their local Polish partners to provide food, shelter, and both emergency and long-term support to Ukrainians seeking refuge in Poland. The Wonder Foundation are seeking donations to help support Ukrainian refugees in Poland.
Volunteer
Although in the UK people are no longer being asked to work or volunteer from home, we have a responsibility to keep ourselves and others safe. Before volunteering you should read the government guidelines for wherever you are, and the information provided by the charity or community organisation you are volunteering with.
The volunteering roles listed below have been signposted to by London Plus. You can find broader volunteering opportunities on the Service at King's webpages.
The Romanian and Eastern European Hub is a service designed to support the Romanian and Eastern European communities both in London and more widely across the UK. They are seeking Ukrainian-speaking volunteers. Email: contact@ro-eehub.org.uk; Telephone: 02038579495.
Work Rights Centre, is a charity that tackles poverty with expert employment rights advice, and evidence-based campaigning. They are seeking a Ukrainian speaking volunteer to help with employment and integration. If you are able to help, send your CV and cover letter to contact@workrightscentre.org
Ukraine Advice Project UK is a group of volunteer legal professionals with immigration and asylum expertise. They are providing a free service to connect Ukrainian citizens in need of free legal advice on UK immigration, visas and asylum with qualified and regulated lawyers. If you are qualified to provide immigration advice in the UK and can volunteer to give pro bono legal advice, email projectu@dlapiper.com with the email subject line 'volunteer'.
Tech For Ukraine has been set up by Tech to the Rescue and are looking for development teams to deliver a full digital solution for nonprofit organisations. Non-profit organisations need tech support to maximise impact in the light of the ongoing crisis. Help them design digital solutions that matter.
Lewisham Polish Centre are seeking volunteers intermittently to sort and pack donations to be sent to Ukraine. Address: 8 Waldram Park, London SE23 2PN. Please join their Facebook group for updates on when volunteers are needed.
Donate essential items
Please bear in mind that current advice, including from the Mayor of London, is to make financial donations rather than donating items such as food, clothes or medical supplies as organisations have been overwhelmed. However, we have included these calls for donations of goods below as they are small, local organisations with specific links to Ukraine and Poland.
Before donating items, please check what items organisations are asking people to donate as this is changing on a regular basis.
White Eagle Club are looking for donations of food items only to be sent to Ukraine. Please drop donations to their Balham site. Address: 211 Balham High Road SW17 7BQ.  Check their Linktree or Facebook page for urgently needed items
Researchers and academics in our Faculty of Social Science & Public Policy are using their expertise to inform discussion and debate around Russia's invasion of Ukraine, the ongoing war and its implications across the world. Read expertise and insights on the war in Ukraine from King's.