22 May 2020
'We knew we had to do something' – how one alumna galvanised the spirit of #ContinuingToServe
King's alumna, Ghonche Alavi, and her Sufi community live out their ethos of 'service' to distribute PPE to key workers.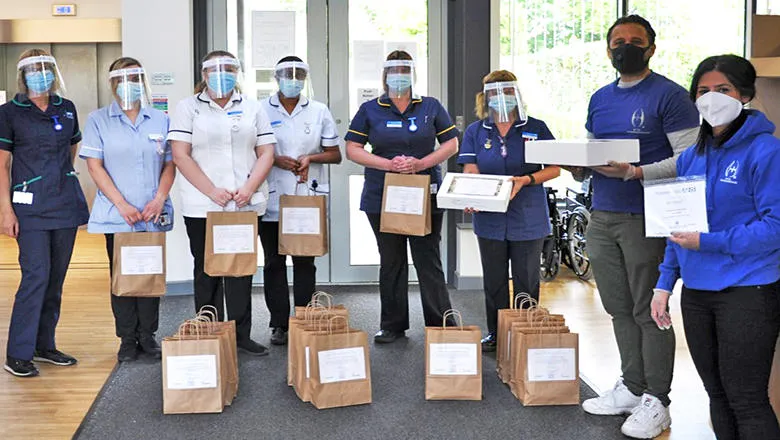 Ghonche Alavi (MA Public Policy, 2015 and ex-member of staff at the Policy Institute) is a cyber security consultant. Recently, she has turned her hand to helping to fight a different kind of threat – COVID-19.
Read more #ContinuingToServe stories here.
Ghonche is a Sufi and volunteers for an Islamic Sufi School in North London (MTO Shahmaghsoudi®). One of the cornerstones of Sufi faith is the idea of 'Khidmat', or 'Service' – looking after the vulnerable in your community is seen as a spiritual obligation.
Once the UK went into lockdown it was this belief that really compelled Ghonche and her community to take action, 'As we started to see the impact of the pandemic – specifically the shortage of PPE for front line staff – we knew we had to do something' she says. Unable to practise together in person, her community got together via video call and made a plan.
We knew we had to do something to serve the vulnerable.

Ghonche Alavi
Together, a team of the school's students and volunteers across London have worked together to produce and distribute over 1,000 PPE items to key workers in hospitals and care homes. Working from home they have pooled their skills to create the equipment from scratch, and make up care packages. Everything from sewing and handcrafts to cooking and researching templates and online resources. Components have been collected for assembly and delivered by volunteer drivers. Ghonche herself has been lucky enough to continue working as a consultant from home and in her spare time has been making facemasks, cupcakes and helping with distribution.
The face masks are sewn using two layers of poly cotton fabric with a single sheet of non-woven fabric in between the two sheets to act as a filter. They are then completed with an elastic band to fit around the head. While these masks are not surgical grade, they have been accepted at a number of hospitals that are struggling to procure PPE. They are particularly useful for auxiliary staff in facilities such as reception, security and cleaning staff.
Others have been producing visors using thick laminating pouches that remain visible once laminated and act as a splatter proof shield. Thick foam is then glued to the front to raise the visor away from the face and for comfort during long shifts. This is fastened with an elastic band around the head. The visors have been tested at hospitals and have been approved by NHS for distribution to frontline staff on wards.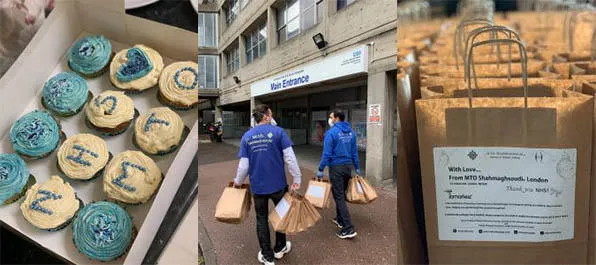 In just a few weeks the team have delivered essential PPE to hospitals and care homes in the London boroughs of Barnet, Islington, Haringey, Enfield and Croydon. They marked International Nurses Day by delivering around Oxford and to the Royal Brompton Hospital in London and celebrated Eid Fetr (the end of Ramadan) by donating food to homeless shelters. But their help doesn't stop there. As an extra touch they played live Sufi music for the residents of an Oxford care home as they waved through their windows and have been running free online meditation and relaxation courses. Their success shows what can be achieved through collaboration and a desire to serve others. And their contribution has been mirrored across the globe with MTO branches in Europe and the US all doing the same in the spirit of 'Khidmat', donating tens of thousands of PPE items.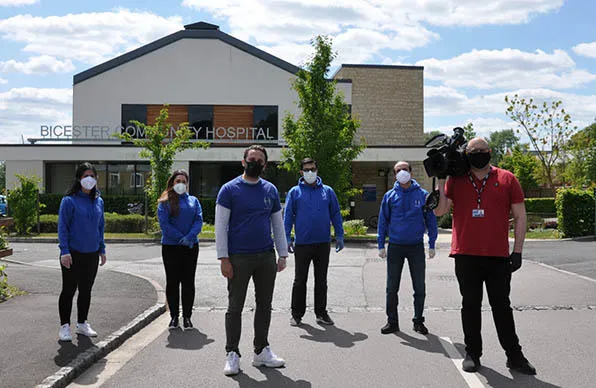 It has been a hugely humbling experience to see the reaction from nurses and doctors, care givers and all the front-line staff. The relief on the faces of these heroes has made me realise how much even the smallest contribution can impact the wider community. It has been so very rewarding to be a part of it.

Ghonche Alavi
To our NHS staff I would say 'I am eternally grateful for the daily sacrifices you make. You keep us safe, protected and comforted during the most harrowing of times. Your resilience shines through and we are thankful for all that you do.'
Read more stories about how our alumni are continuing to serve here.