10 May 2019
We need to talk about dying: South London pop-up shop asks how to have a good death
'The Departure Lounge' is a taboo-busting and free-to-all installation opening for one month on 10 May in Lewisham Shopping Centre.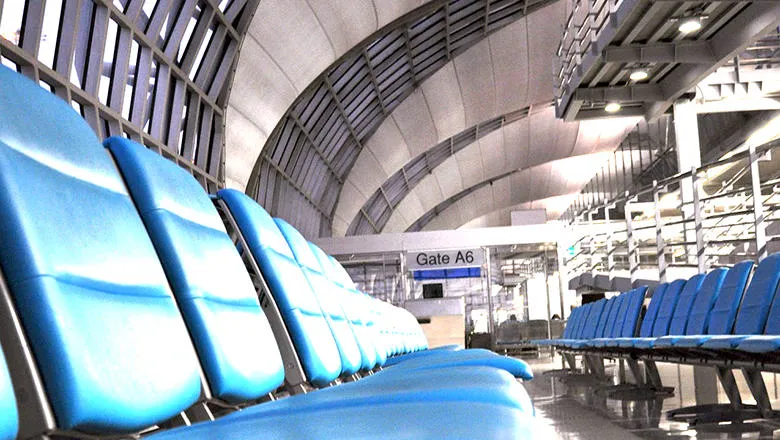 Airport departure lounge
'The Departure Lounge' is a taboo-busting and free-to-all installation opening for one month on 10 May in Lewisham Shopping Centre. The pop-up shop uses the metaphor of travel, findings from medical science, and personal stories from the end of life to explore what it means to have a 'good death'. The enticing and positive space will empower the public to talk more openly about our inevitable last journey.
The Departure Lounge is situated in a busy shopping centre in Lewisham, South London, chosen because it is the birthplace of the modern hospice movement and home to St Christopher's Hospice, the UK's first ever modern hospice.
In 2017, there were 49,412 deaths in London, compared to 498,882 in England as a whole. This means in 2017 approximately 1 in 10 deaths in England was in London.
The project has been created by the Academy of Medical Sciences and public engagement specialists The Liminal Space to help empower the public to talk more openly about the inevitable last journey in our lives. Professor Irene Higginson and Dr Katherine Sleeman from the Cicely Saunders Institute at King's College London were part of the advisory group behind The Departure Lounge. 
The project opening is timed to coincide with Dying Matters Awareness Week (13-19 May 2019).
The Academy purposefully brought this project to a neighbourhood outside of London's central museum district to encourage conversations about dying in an everyday environment.
Walking past The Departure Lounge, shoppers will see what appear to be travel posters promoting exotic destinations in the windows. On closer inspection, the slogans are actually common phrases we all use to avoid talking about death.
Inside, visitors find themselves in an airport departure lounge where suitcases tell stories of lives well lived and luggage tags reveal how medical science has changed the way we die. An interactive life-size departures board will help visitors answer pertinent questions about death and explore what matters most at the end of life personally, and for their loved ones. At the departure gates visitors will have the opportunity to talk to a diverse range of experts in end of life care and death and dying research. 
Professor Sir Robert Lechler PMedSci, President of the Academy of Medical Sciences said:
'People might be apprehensive about coming into a space to talk about death, but we have created a positive place to find out about how having conversations about death and dying can help us all live our entire lives to the fullest. This shouldn't just be a conversation we have when faced with the end of life; it's something we should talk about throughout our lives.'
Damien Egan, Mayor of Lewisham, said:
'Lewisham's community is diverse and welcoming, so I'm delighted The Academy of Medical Sciences chose our borough to host The Departure Lounge.  The history of Lewisham has great ties with this exhibition, which encourages discussion about death and dying. Sydenham is the proud birthplace of the world's modern hospice movement, where the pioneering doctor Dame Cicely Saunders founded St Christopher's Hospice.'
Research shows that 88% of dying people who express a preference say that they want to die at home or in a care home. Hospitals are the least preferred place of death. Shockingly, London has 33% fewer deaths in care homes than the national average, and more hospital deaths than the national average. This could be partly because London also has 10% fewer care home beds for those over 75 years old than the national average. As well as this variation across the nation, there are huge differences in overall quality of care within London. The second best rated Clinical Commissioning Group for general and specialist palliative care in the UK is in London; and so is the worst.
Miss Bambii Nzinga, Lewisham resident and host of The Departure Lounge, said:
'Before getting involved with The Departure Lounge I would have been more likely to talk about sex with my son than ever broach the topic of death with him. As a parent you know the birds and bees conversation is around the corner, but when asked about death by my 4-year-old I was unprepared. Now that I've spent time learning about dying and speaking to experts in the field, I understand that having a conversation about death doesn't have to be morbid. In fact, it can be hugely liberating, and for lots of people it will feel like a relief to finally speak to friends and family members about something so important that we will all have to deal with.
As a born and bred Lewisham local I'm really proud to see such an exciting installation open its doors in our neighbourhood. It's refreshing for something like this to be so accessible to people who might not usually have the time to venture to a museum or gallery in town.'
Visitors to The Departure Lounge will be encouraged to record and share views on what is most important to them at the end of life. This information, along with the findings from eight discussion workshops with people recruited from different ages, faiths and backgrounds conducted by Ipsos MORI, will feed public views into the Academy's activities to inform research and healthcare policy in the area.
Local community groups will also be using The Departure Lounge as a meeting point, including Lewisham Pensioners' Forum and the Rushey Green Time Bank.  The Academy has also organised events linked to the project to be held in Lewisham. On Thursday 16 May, 'Dead Beats' will take a light-hearted look at funeral music choices at Old Tigers Head pub. At the end of May another event will explore how to have a good digital death.
Find out more about The Departure Lounge.