01 October 2021
What Careers Events We Offer
Read to learn more about the full range of events and workshops we hold at King's Careers & Employability.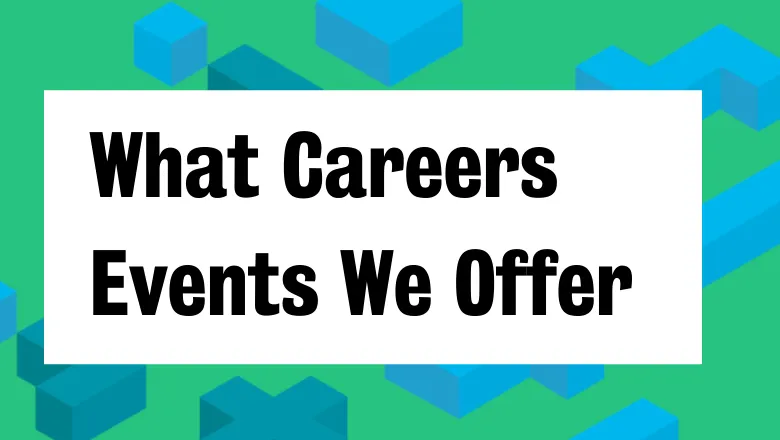 At King's Careers & Employability, we offer a wide range of events and workshops to support you in every step of your careers journey. Read through to get to know some of the types of events you can attend as a King's student or recent graduate.
Careers Fairs & Speed Meets
We've adapted our fairs into virtual events held as part of our Focused Festivals.
You'll get to meet employers at our virtual stands, take part in engaging activities and learn what Knowledge, Attributes, Skills and Experiences you want to develop to build success in your career journey.
Wherever you are on your journey, our planned fairs include:
Focus on Technology, Engineering & Data
Focus on Health, Pharma & Bioscience
Focus on Law, Risk & Justice
Focus on Government, Public Sector & Policy
Focus on Culture & Creative Industries
Nursing & Midwifery Fair
Focus on China
Graduate Jobs Festival
Employer Presentations & Webinars
Throughout the year, our employer-led presentations and webinars are here to help you build success. Delivered by industry professionals and business representatives, these exciting events consist of organisation presentations, virtual open days, diversity events, taster days and skill workshops.
Spotlight on Inclusion
Hear personal reflections, insights and experiences of individuals from Black and Diverse Heritage backgrounds, areas of gender equity, LGBTQ+ and disability inclusion. Our panels, speed meets and guest lectures shine a light on initiatives designed to breakdown barriers, enhance access and foster a sense of belonging across a range of organisations, roles and sectors.
Festival Masterclasses
As part of our wider Focused Festivals, you'll have opportunities to attend educational workshops to develop your employability and commercial awareness. Wherever you are on your career journey, these masterclasses are an excellent chance to meet employers and learn industry knowledge through skills workshops, guest speaker events, and more!
Action Essentials
Practice your interview technique and learn how to ace an assessment centre through our employer-led sessions. Our events are supported by a new suite of digital careers education on transferable skills if you're in the Action stage and undertaking employer assessment processes.
#MyNextSteps
Our #MyNextSteps Workshops cover your entire career journey from exploring potential careers to succeeding at interview. Whether you are in the Discover, Focus or Action phase of your career planning and employability development, we have something to help you take the next step. Topics include:
What do I want from my career after university?
Searching for career opportunities
Getting meaningful work experience & internships
Netowrking for your career using LinkedIn and more
CVs, cover letters, personal statements and application forms
Job interviews, psychometric tests and Assessment Centres.
Employer-led
We're not the only people who want to help you progress and succeed. Employers come to King's to share their insights into what they are looking for in the students and graduates who will become their future employees.
Explore how to crack online tests, prepare a video interview, build your commercial awareness or how to network online with specialists across a range of sectors.
Faculty or department events
Careers Consultants who know all about your degree and your possible future career choices deliver workshops in most academic departments. They include everything from what career options are available for students on your degree to how to prepare for entry into specific careers. Some sessions are in the curriculum, some are part of a specific extra-curricular programme. We also run special programmes for postgraduate research students, those with a year-in-industry embedded into their course and international students from China, the USA and Europe.
To view our complete selection of events and book a place to attend, visit King's CareerConnect.
View our complete selection of events