21 June 2019
What is going on in Hong Kong?
Activist Benedict Rogers explains recent wave of protests while arguing China's state repression is at worst since Tiananmen Square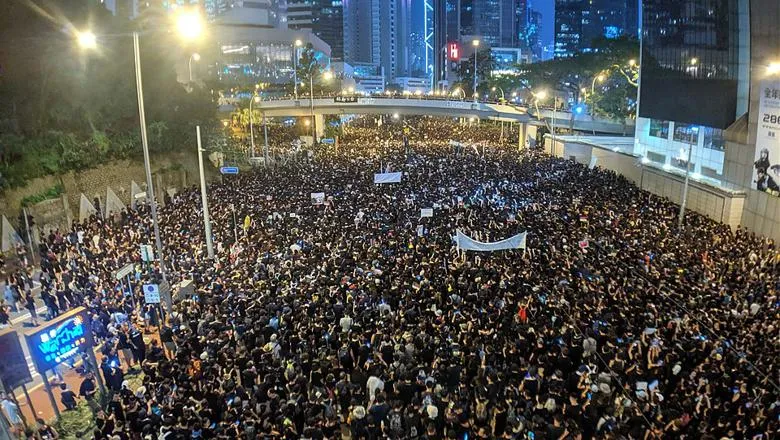 hongkong2019
2019 Hong Kong anti-extradition law protest on 16 June, captured by Studio Incendo.
As two million people take to the Hong Kong streets to protest a new proposed extradition law human rights activist Benedict Rogers, founder of Hong Kong Watch, spoke to an audience at the War Studies department on 18 June explaining his fears over the growing reach of the Chinese government.
"If the extradition law is passed, a city that prides itself on rule of law, grounded in basic freedom and rights, would allow people to be extradited to mainland China where there is no rule of law or independent judiciary," he said.
The Chinese regime already has a record of abducting citizens from beyond the mainland, Rogers giving the example of a Hong Kong bookseller who is currently in prison. With this law, Rogers claims "the regime will abduct people legally." This is especially worrying given the treatment of prisoners and the accused on the mainland, including forced televised confessions, for the first time since the Cultural Revolution. It is for this reason that "This is the first time the whole Hong Kong community has really come together from the business community to human rights activists."
Rogers explained how he himself had fallen foul of the regime as a result of his activism, being denied access to visit on a private visit to Hong Kong in 2017. He subsequently received a series of threatening letters and emails from anonymous sources to his home address in Britain, and his neighbours were encouraged to spy on him.
This illustrates what is for Rogers one of the most concerning aspects of this period, China's 'increased aggression well beyond its borders to any form of dissent'. "China is in its worst human rights situation since Tiananmen - and possibly since the Cultural Revolution." Rogers set up Hong Kong Watch in order to champion promises made to people of Hong Kong when the territory returned to Chinese rule in 1997. "It is time to stand up for the people of China and to the Chinese Communist Party."
Hear a full interview with Ben Rogers on the War Studies Podcast, coming next week, and watch the livestream of the event here.