06 December 2019
Whilst parties emphasise the importance of arts and culture, the devil is in the detail
Lizzie Crump
LIZZIE CRUMP: The manifestos go some way to recognising the economic and social contribution of the arts, but getting arts policy right can be tricky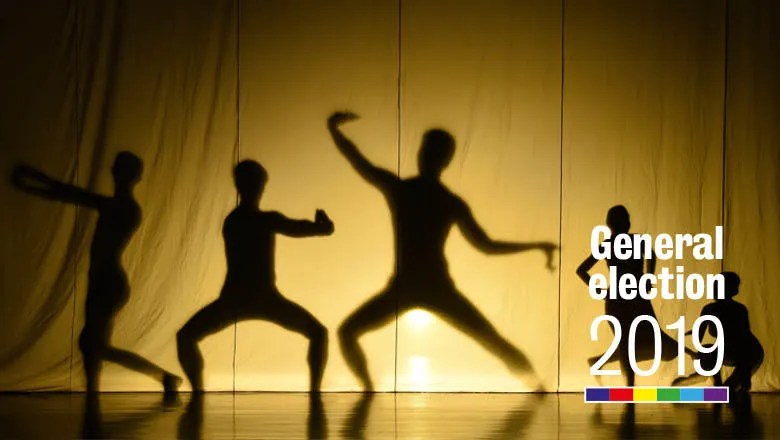 Over the last decade or so, arts and culture have been mentioned more and more in party manifestos – a welcome recognition of their economic and social contribution. However, getting arts policy right can be tricky. There's a complex ecology to take into account, with education, public services, economic and health policy all needing to align to create the conditions for communities to create, access and benefit from a thriving sector.
There are a number of core challenges the sector has to grapple with, and each of these are tackled in some respect by the Lib Dem, Labour and Conservative manifestos.
Challenge 1: Children need arts, culture and creativity from an early age
Key Findings from the Cultural Learning Alliance show that participation in high-quality arts and culture make young people more likely to vote, volunteer and more likely to progress to higher education and employment. But these opportunities are only open to those who have access to diminished local services, attend schools who prioritise the arts against the odds, or whose parents can afford to pay.
Both Labour and the Conservatives include ring-fenced funding for the arts in schools, with Labour pledging £175 million a year for primary schools, and the Conservatives £110 million a year for three years for secondary schools. This is a good start from both parties, but, as always, the detail of this policy is important: the money won't help if it's used to effectively outsource arts provision out of the classroom – to make a difference it should be invested into teachers and real partnerships.
The Liberal Democrats offer to champion the arts in the curriculum and reverse some the policies (such as the Conservative's flagship English Baccalaureate), that have encouraged and incentivised students to take up other subjects and reject the arts over the last ten years.
Both the Lib Dems and Labour will scrap Ofsted and primary school tests, and the Lib Dems say they'll get rid of league-tables too – arguably creating more space and freedom for schools to focus on the delivery of a broad and balanced curriculum that includes arts, culture and creativity.
Challenge 2: The thriving creative economy needs investment in skills to ensure a fit-for-purpose workforce
Arts Council England states that art and culture contribute £10.6 billion to the UK economy and we know that creativity will become really valuable in a future where technology and automation will replace many occupations. The creative industries need targeted support – particularly the small businesses and freelancers which make up the majority of the arts sector. Tax breaks are important and have really helped to incentivise growth.
As the Creative Industries Federation points out in its analysis, the Conservatives and Liberal Democrats both promise to maintain the current creative sector tax incentive schemes, as well as putting in measures designed to help small business: the Conservatives cutting business rates and proposing investment of £3 billion in a National Skills Fund, and the Lib Dems pledging funding for local Creative Enterprise Zones. The Conservatives also pledge to review support for freelancers, however, it's surprising to see a lack of any reference to the government's current Industrial Strategy and Creative Industries Sector Deal within the Conservative document – possibly indicating a shift in priority? Rather than support what we have, the Labour Party has promised to review the tax relief system as a whole, and pledges to offer free lifelong learning for adults, grants and the development of new qualifications.  
Challenge 3: Direct investment in the arts is needed
Organisations from local community centres to concert halls have been significantly hit by austerity measures, both through cuts to Arts Council England and through reduced support from cash-strapped local authorities (historically the biggest national funders of the arts). Labour's manifesto is the only one to talk directly about "proper" funding for Arts Council England – but it doesn't give us any figures. Labour has pulled together the main headlines of its policies for the arts into a Charter, and key promises include £1 billion of funding to upgrade and build libraries, museums and arts centres, and the introduction of a Town of Culture competition. The Conservatives say they will "maintain their support of the arts" but don't go into much detail beyond a pledge for a Festival of Great Britain and Northern Ireland in 2022, and the inclusion of a £250 million Cultural Investment Fund (previously launched by the Conservative Government). The Lib Dems will protect arts funding through the National Lottery and will look to maintain the independence of the BBC. All three main parties will continue to fund free access to our national museums.
Challenge 4: The arts need strong public services in order to thrive
Individuals and communities can transform through their own creativity and through the arts and culture, but the arts can't be effective where schools and social care systems are struggling against systemic underfunding and are forced to deliver so much more for less – with the poorest in our society losing out first. In this landscape, there is little freedom to focus either on preventative practice, where studies show that participation in the arts and culture is proven to keep people healthier and happier, saving money from the public purse. Nor is there opportunity to develop solid partnerships that are needed to underpin any high-quality work.
The Labour manifesto promises to reverse the cuts to public services and restore them to pre-2010 levels. They also offer a cross-governmental National Strategy for Childhood focusing on health, security, well-being and poverty. The Lib Dems will stop the "erosion" of public services and funding, and the Conservatives will invest £3.6 billion into the (already announced) Towns Fund which will help 100 towns become more "productive".
Challenge 4: Arts and culture need an immigration system that supports and enables artists to work easily and freely across borders
Whatever the outcome of Brexit (and the Lib Dem Manifesto is clear that it will not be taken forward if they're successful), we need a system that allows the frictionless movement of goods and people in order to continue our strong and flourishing relationships, and to enable exhibitions, productions and performers to travel extensively and at short notice. This has a real impact on our collective, national understanding of the wider-world, and on our ability to build understanding across the increasing number of issues that divide us – as well as on the financial wellbeing of individuals who make their living as artists. Neither the Conservatives nor Labour give many assurances or details on how this frictionless system will be achieved.
Whilst it's good to see the arts taking their place in the manifestos, there needs to be real, detailed policy work undertaken by all the parties to truly develop these promises. We want to see workable plans that will make a real difference to people, and leaders who will commit to them in the long-term, not just by attending photo opportunities and glittering launch parties. Whoever is successful, we'll want to work with them to make this happen.
Lizzie Crump is the Co-Director of the Cultural Learning Alliance and the National Strategic Lead for What Next?.