10 January 2020
Why I support King's: the gift of hope
We talk to Dr Monica Malik about the importance of education, giving back, and why she has set up a scholarship for refugees.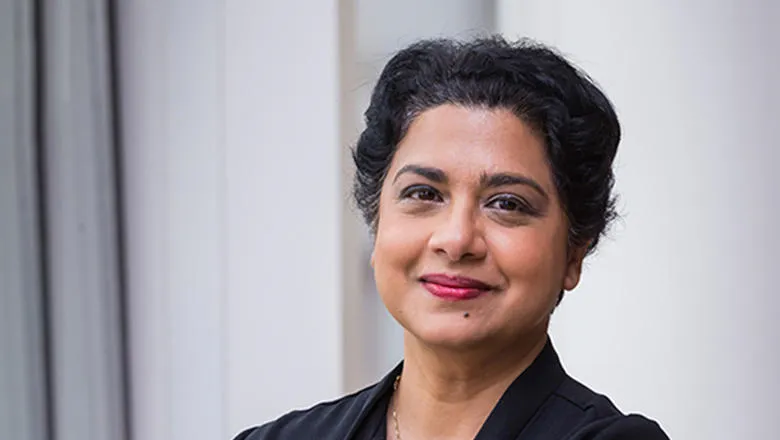 [This article is from the Autumn/Winter 2019 issue of InTouch, your alumni magazine]
Dr Monica Malik (Geography, 1992) is an economist with aninterest in development. We talk to her about the importance of education, her desire to give back and why she has set up a scholarship for refugees.
Education and development have always been important to Monica Malik. Now working as Chief Economist at Abu Dhabi Commercial Bank, she is the author of several books and articles on economies and development in the Arab Gulf Region.
'The one thing I've really appreciated throughout my life is my education,' she says. 'I loved every minute of my time at King's. It gave me a fantastic foundation. If you have an education, whatever happens, you have some form of supporting yourself. Not everyone is lucky enough to have this access. I've always wanted to make a difference – to give back. I want to help people who have experienced challenges, to give them the skills and tools to support themselves and make improvements to their lives.
Education can do that.' Driven by this vision, Monica contacted King's to find out how she could help. 'I knew I wanted to support refugees, initially from the Middle East, though the programme has become wider. King's helped me find the best programme and my initial gift went towards Sanctuary Scholarships to support undergraduates with refugee or forced migrant status.
'I then set up the Dr Monica Malik Sanctuary Bursary for postgraduate students from a refugee background to study subjects such as Medicine, Dentistry or Law.
Minica with scholarship recipient Simon Ossai
'On a simple level, I hope I can help facilitate a dream for them, to achieve a postgraduate degree,' she explains. 'But I also want to give them hope. I've had a lot of kindness in my life. I think it's important to do the same for others. To feel that they are not alone and that there is someone to support them.
'It has been so meaningful for me to get to know the students that I've helped and to hear their stories. It's very moving to have that connection.
'To anyone considering how they can help, I'd say, "Speak to King's!" That's what I did. Whatever you can give, do it – it's really rewarding.'
Reflecting on the value of giving, Monica says, 'A lot of people have supported me. I think this is why I want to help. I've had a lot of kindness in my life. I think it's important to do the same for others.'