09 March 2023
Winners of annual Policy Pitch competition revealed
A policy designed to put the brakes on 'fast fashion' impressed judges at the 2023 School of Politics and Economics Policy Pitch.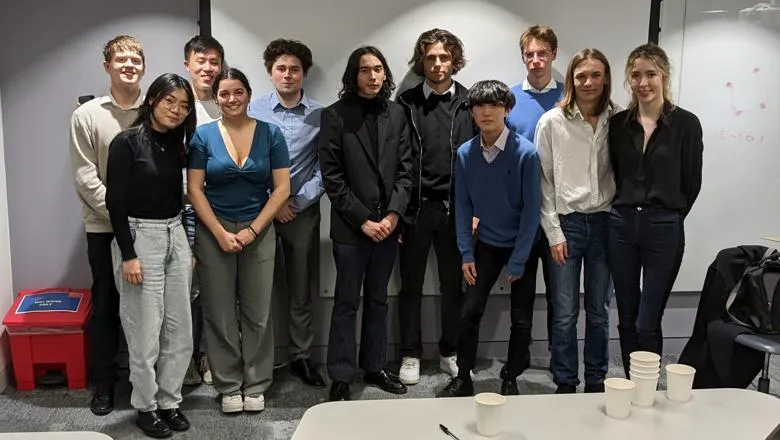 The participants of the 2023 Policy Pitch competition. Picture: SPE
Students Tara and Joe's pitch, the Responsible Clothing Fund, proposed a voucher for all adults and children in the UK entitling them to 50 per cent off up to a spend of £30 on clothing at a charity shop.
With the fast fashion industry a major contributor to carbon emissions globally, the pair, who both study PPE at King's, hoped the policy would encourage consumers to switch to a more sustainable method of shopping while also assisting families with cost of living pressures.
The pair proposed funding the scheme by levying a one-off windfall tax on fast fashion retailers.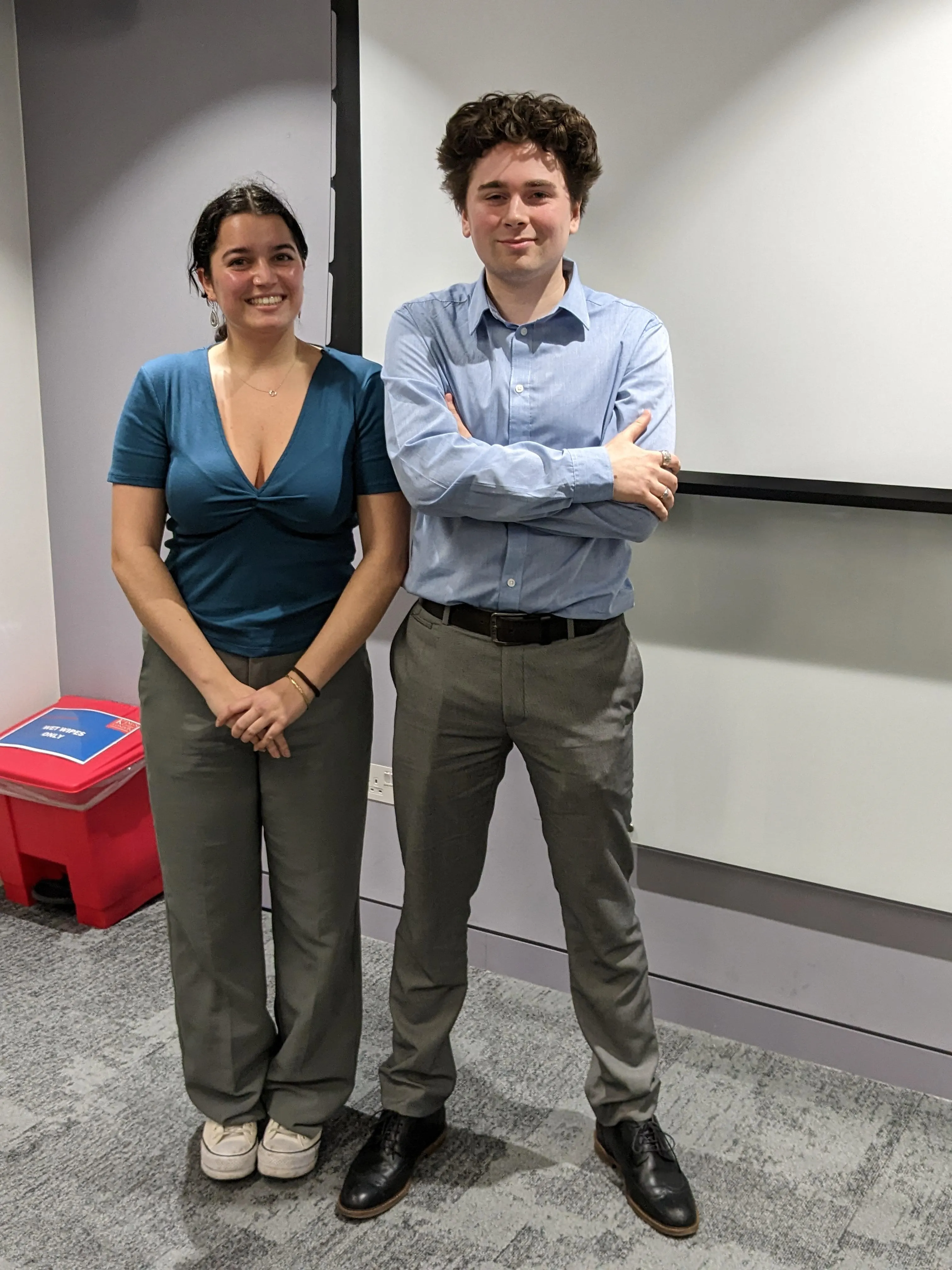 Tara said: "When coming up with our policy, we wanted to start with the simplest way of creating a sustainable habit among consumers and we wanted to focus on individuals and those most affected by the cost of living crisis.
"We also wanted our policy to be more about rewarding people then punishing them because some policies are more about punishment."
Joe added: "I'm a big fan of charity shops and recycled clothing so there was a sort of personal motivation behind the pitch. We're very pleased to have won. We listened to the other presentations and thought they were all really strong."
The annual competition returned on 8 March and saw five teams of students present their policies to a panel of expert judges, which included Jill Rutter, former senior civil servant and research fellow at the UK in a Changing Europe; Dr Francesca Vantaggiato; a lecturer in public policy at King's; Juliet Phillips, senior policy advisor at the E3G think tank; and Aoife O'Leary, founder and chief executive of the NGO, Opportunity Green.
The prize for runners-up was split between two teams; Elizabeth, Joshua and Cameron for their NetZero900 pitch, and Arthur and Jonathan for their pitch, Tax the Energy Consumption.
NetZero900 proposed the gamification of the sustainability process, encouraging people to participate in set tasks via a mobile app - like using public transport, reading, or buying local produce - to earn points, which could then be converted into cash.
Tax the Energy proposed a new tax based on income level and energy consumption, with those households using energy above a set threshold asked to pay. The money would then be redistributed to those households categorised as being in fuel poverty.
Other finalists, Julia and Glenne presented a proposal for a new UK-wide travel card for low earners, with costs capped at £5 a day. The policy was designed to encourage a shift away from cars and to public transport.
Jacob and Go's pitch, Upgrade Your Home, proposed introducing a new scheme in which householders could apply for their home to be assessed and then grant funding supplied for insulation. This would then qualify them for a special energy rate, a portion of which would go to pay back the cost of the insulation over time.
The winning pitch was awarded £300 while the runners-up were awarded £150.
After the presentations, the participants enjoyed a talk from former King's students and SPE Policy Pitch 2020 winners Marcia and Jasper.
Together with their team mate Leonardo, the alumni not only used their pitch as a dissertation but have since built their original policy pitch idea into a business – Carbon Tag – which has already worked with retailers.
In this story