11 June 2021
Winners of inaugural student challenge are crowned
The competition was intense and the challenges gruelling but a worthy winner has emerged at last from this year's DWS v SPE challenge.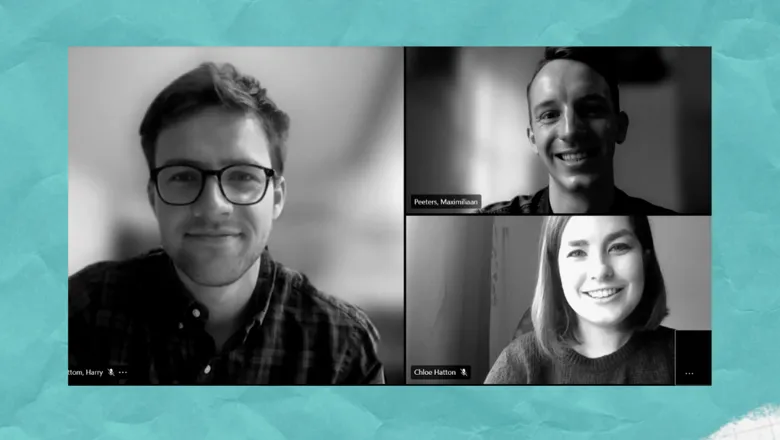 Competition winners Harry Winterbottom, Maximiliaan Peeters and Chloe Hatton.
Chloe Hatton, Harry Winterbottom and Maximiliaan Peeters – better known as team Kissinger's Crew – were crowned winners by the judging panel after coming out on top in two of the three competition challenges.
The team's work across the challenges was described as 'thoughtful, creative, and novel' by the judging panel. Representing the Department of War Studies, the team collected the £350 top prize and the kudos of being the competition's first winners.
The runners-up prize was shared by the teams Margaux Muchachas (made up of Freya Thorner and Sophia Chaudhry from SPE) and Michael Sandel's Voice Fan Club (made up of Francois de Navacelle and Monica Richards from SPE).
Student experience officer Chloe Humphreys, joint-organiser of the event, said: "Congratulations to Kissinger's Crew for their excellent performance across the competition, they are worthy first winners. We wanted to see evidence of creativity and real engagement from entrants, and I was so pleased to hear from judges that the standard from all our teams was high.
"We're looking forward to running the competition again in future and seeing what new ideas our teams will come up with."
The competition was broken down into three challenges and began in December last year, with 120 students signing up to take part. For the first challenge, students were asked to write or produce a news report, the second challenge required teams to come up with a communications plan, and the final task required teams to research and put together a policy pitch focussed on the gender pay gap.
The judging panel was made up of a variety of experts, including academics from across the university, journalists, civil servants, and think tank members. The panel even featured Anita Nergaard, the Norwegian ambassador to Singapore.
Judges' scores were added together to come up with a shortlist and each challenge winner was announced as the competition progressed.
After all three challenges were complete, the shortlisted submissions were ranked and the team with this highest cumulation of points were announced as overall winner.
In this story