20 August 2020
Winning proposal to help make London's Canada Water a dementia friendly community
Students took part in TEDI summer school developed with our partner universities in USA and Australia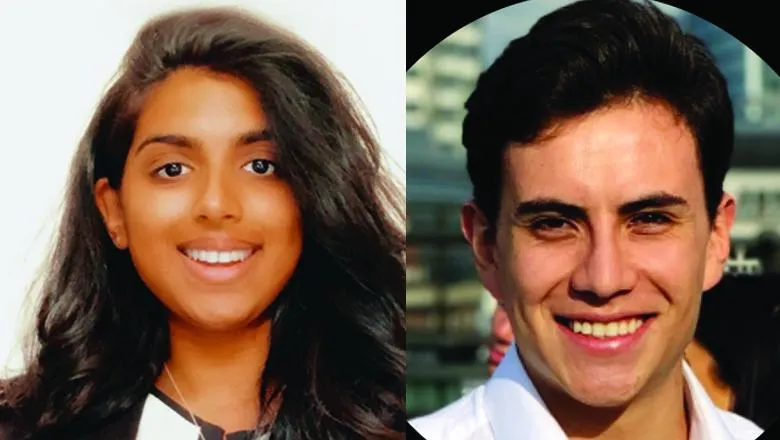 Nicole Pereira (left) and Juan Ruge Arana (right) were two King's Business School students that participated in the Summer School.
Students from King's Business school joined over 100 peers from 21 countries and a range of academic disciplines for a summer school tasked with developing dementia friendly solutions for the new urban town centre at Canada Water.
TEDI-London is an industry led project based engineering school founded by the PLuS Alliance partners: Arizona State University, King's College London and University of New South Wales. Its 2020 Summer School placed students in global multidisciplinary teams, combining their different skills and knowledge to develop the most innovative solution for regenerating an urban space, taking the needs of people living with dementia into account. It is estimated that by 2030, 82 million people worldwide will be living with dementia The students were supported by planners, developers, aged care facility providers, government organisations and not-for-profits from the UK, US and Australia who all offered mentoring, masterclasses and facilitation.
Nicole Pereira, International Management BSc student, was part of the winning team, selected after pitching their proposals to an industry panel. The team will share a £15,000 prize to fund a trip to develop their idea further in the TEDI-London labs, working alongside industry specialists including British Land, the developers behind the Canada Water Masterplan who are also TEDI-London's founding industry partner.
Nicole said that despite being apprehensive about her lack of engineering knowledge, the summer school exceeded her expectations: "I grew in so many different ways; from how I interact in a global team, to how my brain was challenged by the design process and engineering concepts. I found my ideas challenged and stretched and we managed to create an environment of constructive criticism which as a result made our idea strong.
The programme also changed her perception of dementia: "I interacted with people with dementia as part of co-designing. This removal of the mystery that surrounds the disease meant that I could relate to it better and even begin to understand its effect and what people with dementia need to cope with it. Being a part of this program has made me want to take this project further. Hopefully in a year's time I will have met this goal!"