12 March 2018
Women pressing for progress at the Defence Academy
Celebrating Women and Defence at the Defence Studies Department in partnership with the Shrivenham Inclusivity Network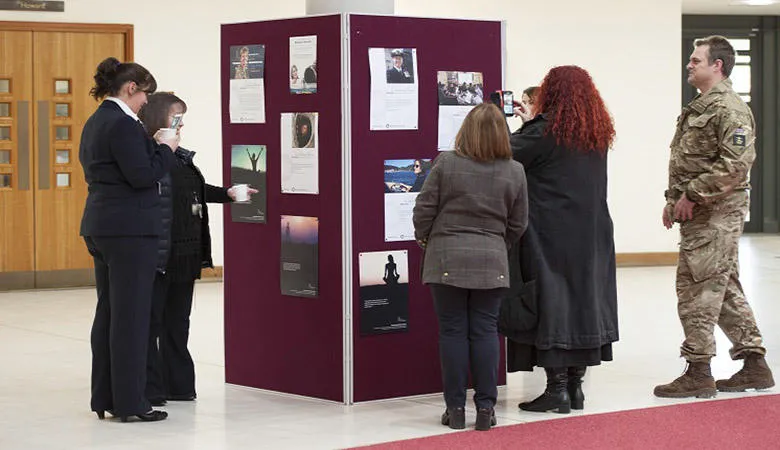 Browsing displays at the Defence Academy, to mark International Women's Day
The 2018 International Women's Day comes on the heels of unprecedented global movement for women's rights, equality and justice. Sexual harassment, violence and discrimination against women has captured headlines and public discourse, propelled by a rising determination for change.
The Defence Studies Department, located within the Defence Academy of the United Kingdom, is becoming an increasingly diverse and inclusive military environment. A host of inspiring women are leading the way on making this happen.
Dr Rachael Kelly, chair Defence Studies and Departmental Lead on Diversity and Inclusion and Athena Swan, said "There are many women in all kinds of roles here: military staff, students, SERCO to ESS, academics, civil servants and contractors in many different capacities.  This campaign is in part about making more visible the wonderful work we all do.  The DA is a unique and wonderful place to work but it is a male-dominated environment and it isn't always easy being a woman here.  In coming together to celebrate all we are and all we do, we're contributing to a rich tradition of women standing together to commit to continue to work for equality and inclusivity." 
Flt Lt Kerry Bennett addressed the Shrivenham Inclusivity Network in January, speaking about her career experiences to date as a pilot in the RAF, as well as her time in the Astronauts programme. Kerry was a finalist on the BBC 2 programme 'Astronauts: Do you have what it takes?'
Jan Bronwen Maddox, Director of the Institute for Government gave a lunchtime seminar, open to all at the Defence Academy.
Photographic exhibition by the artist Wendy Faux, entitled 'Not Just a Wife' is on display at the Defence Academy between the 5th – 9th and 12th – 16th March. The exhibition celebrates the multi-faceted identities of military spouses.
To celebrate International Women's Day, the Hobson Library at the Defence Academy is displaying material on notable women in warfare. This includes women, from queens to medics, throughout history and across the globe. To further mark this event, Florence Nightingale's personal, annotated copies of 'The life of Sir Henry Lawrence' will be displayed in the Library's archives display cabinet.
Upcoming Events:
31/03/18 International Day of Transgender Visibility
18/04/18 Diversity Matters Awareness Week
02/05/18 Air Vice Marshal Christina Elliot will address the Shrivenham Inclusivity Network
17/09/18 Anti-bullying Week & Transgender awareness week
24/09/18 National Inclusion Week
Test how much you know about Gender Equality in this 15 minute HeForShe test
In this story