01 October 2022
PhD students from Informatics attend WomENcourage conference
The conference aims to connect women from diverse STEM backgrounds and encourage them to pursue a career in computing.
This September PhD students from the Department of Informatics were invited to attend the 9th ACM womENcourage conference held in Larnaca, Cyprus. The conference aims to connect women from diverse STEM backgrounds and encourage them to pursue a career in computing. Anna, Elisavet, and Yazhuo from the Software systems, Distributed AI, and Human Centred Computing groups represented the department of Informatics in person for the first time after two years of the pandemic.
The first conference day started with a Hackathon where the goal was to create an application combining art and science. Anna and Elisavet spent the day collaborating with two master's students from the University of Primorska. The team envisioned the service 'Virtual ART', to help people with no physical access to museums to get into virtual reality exhibitions using VR headsets. The KCL student's expertise in AI and knowledge graphs combined with their passion for VR technology master students helped the team to complete their mission and present their results successfully.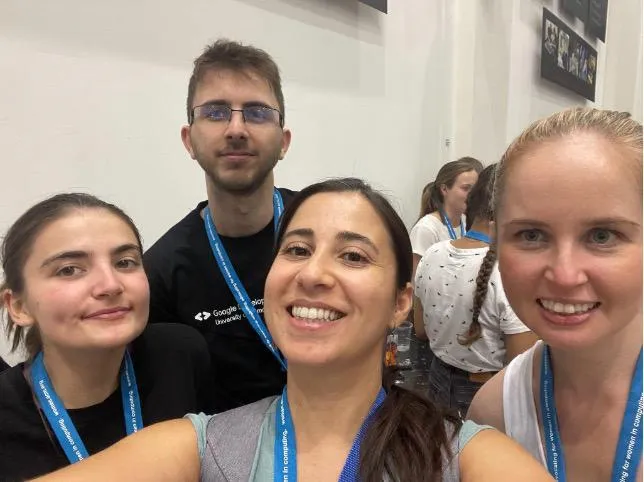 Over the next few days, the students had the chance to meet other women in the field of science and technology, get motivated by their stories and experiences, and join four workshops about inspiring women to proceed with a career in computer science, the ethics and equity in AI, Visual art and algorithms, and STEM entrepreneurship.
The round table hosted a panel of five women in STEM with diverse backgrounds and career choices. The panel shared personal stories about the challenges they faced in their careers and suggested new policies to offer more job opportunities to women in academia and industry.
Anna had the chance to present a poster and get the opportunity to discuss her research at King's College London. Furthermore, she held a workshop about Visual Art and Algorithms where she described how algorithms produce art and aimed to study what a scientific audience thinks about uniqueness vs repeatability, training, and authorship in algorithmic art. Anna practiced her presentation skills and collected brilliant ideas on how scientists experience visual arts.
King's students had the chance to empower themselves by coming up with an idea and building an application service in a day. Anna, Elisavet, and Yazhuo extended their network by meeting the steering committee of womENcourage and exceptional attendees, as well as, they were inspired and motivated by many successful women in STEM.
The PhD students have been supported and funded by the Department of Informatics as part of the Department's Athena SWAN Action Plan. The Department proactively encourages and supports our women PhD students to attend this type of conference as part of our embedded Equality, Diversity, and Inclusion Ethos; working alongside people with different experiences and perspectives encourages innovation and creativity, whilst also increasing confidence and performance. Here at Informatics, we continually strive to:
Provide an inclusive working, learning, and research environment for all staff and students.
Ensure no staff or student will be disadvantaged because of any protected characteristics.
Strive for diversity of staff and students along all dimensions.
We firmly believe that Diversity is crucial for enabling world-leading research, impact, and teaching.
In this story