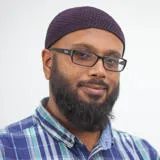 Imam Abdul Mumin Choudhury
Muslim Chaplain
Contact details
Biography
Imam Abdul Mumin Choudhury is a Muslim Chaplain. He works part-time at King's and can usually be found on campus on Tuesdays.
Abdul covers all campuses and is available to support students and staff of all faiths and none. He would very much welcome those who'd like to drop by for a chat and coffee.
He is also a Chaplain at Guys and St Thomas' NHS Trust and Highgate Mental Health Trust. He has been a hospital Chaplain since 2008 providing pastoral and religious support to patients, relatives and staff. Abdul had the unique opportunity to serve as an Olympic Chaplain in the 2012 London Games and met with some of the athletes, officials and staff.
In addition to his chaplaincy role, he lectures on a part-time basis at Ebrahim College, East London, teaching on a variety of subjects to mature students.
Abdul was born in St Albans, Hertfordshire and then moved to London in his primary years. He studied at the Institute of Islamic Education in West Yorkshire, where he graduated with a degree in Islamic Studies. After returning to London, he completed a Post Graduate certificate in Islamic Studies at Birkbeck, University of London.
Abdul enjoys reading, calligraphy and badminton. He is also a great fan of dining out and exploring new restaurants in and out of London.