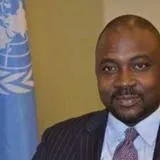 Dr Adedeji Ebo
Visiting Professor
Biography
Dr Adedeji Ebo is a Visiting Practitioner as part of the Practice of Leadership programme with the African Leadership Centre.
Adedeji is currently Chief, Conventional Arms Branch, United Nations Office for Disarmament Affairs (since March 2020). He was previously the pioneering Chief of the Security Sector Reform (SSR) Unit for the Office of Rule of Law and Security Institutions (OROLSI), Department of Peace Operations, New York (2008). During this role, he held intermittent assignments as the Director of Political Affairs at the UN Office for West Africa and the Sahel, UNOWAS (2017–2019), UN Operation in Côte d'Ivoire (2015-2016), and the UN Office in Mali (2013).
Prior to joining the UN, Adedeji was a Senior Fellow and founding Head of the Africa Programme at the Geneva Centre for Security Sector Governance (DCAF). He was an Associate Professor and the Head of the Department of Political Science and Defence Studies at the Nigerian Defence Academy.
Adedeji is an alumnus of the University of Keele, England (BA International Relations), the London School of Economics and Political Science (MSc Politics of the World Economy) and Bayero University, Nigeria (PhD International Relations).
His latest publication is 'The United Nations and Security Sector Reform: Policy and Practice' (co-edited with Prof Heiner Hanggi), published by LIT VERLAG, 2020.