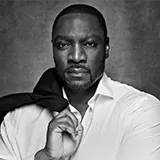 Adewale Akinnuoye-Agbaje
Actor and filmmaker
Biography
Adewale Akinnuoye-Agbaje (Law, 1992) is an actor, filmmaker, writer and musician who has been based in Los Angeles since the early 1990s.
Having faced adversity as a child – as documented in his directorial debut, the critically acclaimed and award-winning autobiographical film Farming – Adewale managed to turn his life around. He left King's with an LLM Master of Laws, during which he read criminal law and criminal justice, and wrote a thesis on the UK's prison system. While studying, Adewale worked in a designer clothes shop, which introduced him to the world of modelling. This subsequently took him to Hollywood. His acting career began in 1995 when he won a role in the science-fiction action-adventure movie Congo.
Adewale's other film roles have included The Mummy Returns, The Bourne Identity, Get Rich or Die Tryin', Marvel Studios' Thor: The Dark World and DC Comics' Suicide Squad. His best-known television roles include convict Simon Adebisi in the 1990s HBO prison series Oz, Mr Eko in survivor drama Lost and Malko in the fifth season of Game of Thrones.
Moving from acting into directing, Adewale's film Farming won Best British Feature Film at the Edinburgh International Film Festival and the Jury Award at the Braunschweig International Film Festival in Germany in 2019. It is based on his own upbringing – an experience that eventually drove him to concentrate on his education and, in turn, led to his taking his place at King's.
The son of Nigerian immigrants who came to England in the 1960s, at just six weeks old, London-born Adewale was 'farmed' out to an unofficial foster family when his parents realised that they were unable to look after him while they were both studying and working to pay for their degrees (his father studied law, his mother accountancy). This was a common practice in Nigeria, but being raised by a white working-class couple in a terraced house on the Tilbury Docks in Essex left him open to racist and physical abuse and struggling to reconcile his heritage with the environment around him.
His foster parents urged young Adewale to stand his ground and defend himself. By 16, he had earned a reputation for being tough and, ironically, gained the respect of the local street gangs that would frequently persecute him. He ultimately joined the skinhead gang, spiralling into a life of delinquent behaviour. Adewale was ultimately pulled out of Essex, sent away to a new foster family and a new school, creating the turning point in his life.
By sharing his real-life story on screen, Adewale has offered inspiration and courage to those with similar backgrounds, and shone a light on an issue many were unaware of. Reflecting on how his time at King's has influenced the positive outcomes in his life, Adewale says: 'Education was the key for me to transform my life. It has provided the foundation for my success in every endeavour and opened a window to boundless opportunities that I would never have believed possible. My experience at King's is one that I shall treasure.' On being announced as the 2020 Alumnus of the Year in the King's Distinguished Alumni Awards, Adewale said it was 'a huge honour'.