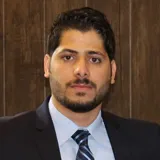 Dr Ahmad Adnan-Qidan
Research Associate in the Department of Engineering
Contact details
Biography
Dr. Ahmad Adnan-Qidan (Member, IEEE) received the Ph.D. degree in multimedia and communications from Universidad Carlos III de Madrid, Madrid, Spain, in 2020. He was a Research Fellow in the Institute of Communication and Power Networks, within the School of Electronic and Electrical Engineering, University of Leeds, UK, 2020-2023. He is currently a Research Associate in the Department of Engineering, King's College London, UK.  
Ahmad was the recipient of the outstanding thesis award 2020-2021 from Universidad Carlos III de Madrid, and the recipient of  the PhD thesis award 2020 on Communications according to IEEE Spanish Signal Processing and Communications. He is a Reviewer in highly cited journals, including the IEEE Journal of Lightwave Technology, IEEE communication letter, and IEEE Communication Magazine. His research interests include optical wireless cellular Networks, interference management, machine Learning-based wireless communication. 
Research interests
RF and Optical Wireless Systems.
MIMO Systems.
Mathematical Optimization.
Interference Management.
Machine Learning Based Wireless Communication.