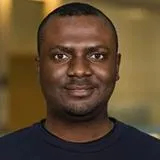 Akinbode Fasakin
Research Aide to General Martin Agwai
Biography
Akinbode Fasakin is an alumnus of the Africa Leadership Centre and a Research Aide on the Practice of Leadership programme, supporting Leading Practitioner General Martin Agwai.
He is currently a PhD student at the Swedish Defence University and Stockholm University. Prior to this, he completed his MSc in Security, Leadership and Society at the ALC via their Peace and Security Fellowship programme.
Akinbode is also an Assistant Lecturer in the Department of International Relations at Obafemi Awolowo University in Nigeria. He also holds an MSc in International Relations and a BSc in International Relations from Obafemi Awolowo University.
He has published several articles in the areas of security and democracy in Nigeria in peer reviewed journals and books.