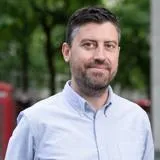 Dr Alec Fraser
Senior Lecturer in Public Policy & Management
Programme Director, MSc in Public Policy & Management
Research interests
Public Services Management & Organisation
Contact details
Pronouns
He/Him
Biography
Alec Fraser is a Senior Lecturer in Public Policy & Management at King's Business School. His research focuses on evidence use, financial incentives, and public management reform in the UK and EU countries. He has a particular interest in health and social care. He has extensively researched the development of Social Impact Bonds over recent years.
He previously spent five years at the Policy Innovation Research Unit at the London School of Hygiene and Tropical Medicine. Prior to entering academia he worked in NHS administration and management. He has an MA in Public Policy and a PhD in Management - both from King's College London.
Alec is the Programme Director for the MSc in Public Policy & Management at King's Business School and teaches on the 'Organisation and Management of the Public Services' MSc module in term 1 and the third year undergraduate 'Comparative Public Policy & Management' module in term 2.
Areas of expertise:
Public Policy and Management
Health Policy
Evidence use and implementation in the public sector
Comparative approaches to Public Management Reform
Outcomes-Oriented Reforms and Social Impact Bonds
Alec's work has been published in journals including Public Administration Review, Social Science & Medicine, Sociology of Health & Illness, International Journal of Public Management, and Social Policy & Administration. Alec has provided chapters for a number of academic books and he co-edited the book 'What Works Now: evidence-informed policy & practice' published by Policy Press in 2019. He is also a co-author of the new edition of 'Making Health Policy' for the Open University Press published in 2023.
Are you accepting PhD students?
Yes
News
Elton John AIDS Foundation programme was effective in finding previously unknown cases of HIV
News
Elton John AIDS Foundation programme was effective in finding previously unknown cases of HIV