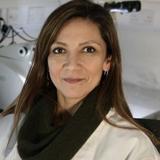 Alejandra Carbajal
Electron Microscopy Technician
Contact details
Pronouns
she/her
Biography
Alejandra is a biochemist trained as an electron microscopist at EMBL in Heidelberg. In Griffiths' group, she studied vaccinia virus host cell interactions. Later, she continued gaining experience in EM at the Medical School Hanover in Germany, studying the ultrastructural aspects of the lung and the surfactant system.
In 2012, she relocated to the UK and worked in the Diagnostic Electron Microscopy Unit (UCL) at the Royal Free Hospital in London.
She joined the CUI in 2018 to work for our diagnostic service as well as supporting research projects. Since 2021 she is working with the research team covering a vast range of techniques.