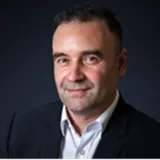 Dr Alessandro Arduino
Affiliate Lecturer
Research interests
Conflict
International relations
Security
Biography
Dr Alessandro Arduino, is an affiliate lecturer at the Lau China Institute, King's College London, and a member of the International Code of Conduct Association (ICoCA) advisory group. He is a renowned expert on China's Belt & Road Initiative security and China's political economy in Central Asia, the Middle East, and Africa. He has published numerous papers and commentaries in various Italian, English, and Chinese journals and is the author of several books.
Alessandro is a sought-after consultant for organizations such as UNDP, EBRD, and AIG advising on security, risk assessment, and mitigation. His podcast, Boots off the Ground (BOTG), discusses how uniformed soldiers, or boots on the ground, are being replaced by private military companies and automated weapons.
His book Money for Mayhem (Rowman & Littlefield) is a groundbreaking exploration of the role of mercenaries and private military companies in shaping the future of warfare.
His latest books, Securing the Belt and Road Initiative and China's Private Army, are essential resources for those seeking to understand China's security landscape in Eurasia, Africa, and the Middle East.